Serbia has launched its first renewable energy auction seeking to award 400 MW of wind projects and 50 MW of solar projects, which will be supported through a 15-year contract for difference (CfD). The tender is the first round in Serbia's three-year auction plan seeking to develop 1.3 GW of renewable capacity (1 GW of wind and 300 MW of solar).
The launch of the auction follows a technical cooperation project with Serbia's Ministry of Mining and Energy, led by the European Bank for Reconstruction and Development (EBRD), which provided assistance on the regulatory framework. Earlier in June 2023, the Government of Serbia adopted a decision on the maximum offered price for electricity pertaining to the auction, which was set at €105/MWh for wind and €90/MWh for solar.
In January 2023, the Serbian power utility EPS announced plans to install 4 GW of new renewable capacity over the next 15 years, in order to reach 7 GW in 2038. As of end-2021, Serbia had less than 400 MW of wind power and only 52 MW of installed solar capacity, representing less than 6% of its total capacity. The country, which commissioned its largest solar plant yet (10 MW) in April 2023, currently has 1.8 GW of solar and 5.5 GW of wind capacity under development.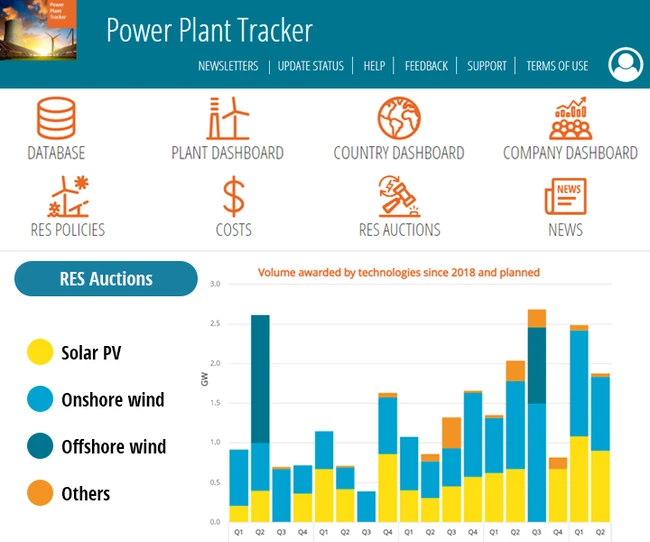 Discover our very detailed and regularly updated RES auctions database with worldwide coverage and a technical focus backed by academic research.
With our renewable energies auctions service you will be able to monitor auctions at a global level. Its (expanding) scope notably includes all major G20 countries and offers an especially fine tracking on Europe and South America.