SECI launched three tenders for 1.2 GW of solar projects in India
The Solar Energy Corporation of India (SECI) has initiated three calls for tenders of solar power projects with a total combined available capacity of 1,225 MW across three states (750 MW in Andhra Pradesh, 275 MW in Uttar Pradesh and 200 MW in Karnataka). The projects will be installed under the National Solar Mission Phase-II, Batch-IV scheme.
In Andhra Pradesh, the 750 MW Kadapa solar PV park will be built in three tranches of 250 MW each (consisting of five 50 MW solar plants). Project developers may bid for all three 250 MW plants. In Karnataka, project developers may bid for the four 50 MW plants of the 200 MW Pavagada solar project. Eventually, 275 MW are available in the State of Uttar Pradesh. Selected bidders will sign 25-year Power Purchase Agreements (PPAs) with SECI and supply electricity to the state power utilities. The maximum tariff was set at INR 2.93/kWh (US$4.6c/kWh) for projects in Andhra Pradesh and Karnataka (higher in Uttar Pradesh).
The SECI has also unveiled a document regarding the development of future floating solar power (FSPV) projects on a Build, Own and Operate basis (BOO). 10,000 MW are available. The company is looking for partners and has called for Expressions of Interest (EoI).
India has strong ambitions in the solar sector but proposed projects did not raise enough interest in the past. In July 2017, the SECI scrapped 950 MW of solar tenders in the states of Andhra Pradesh and Karnataka, that were announced between June and August 2016.
---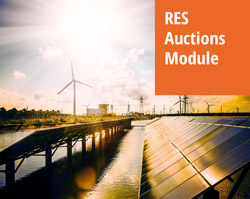 Discover our very detailed and regularly updated RES auctions database with worldwide coverage and a technical focus backed by academic research.
With our renewable energies auctions service you will be able to monitor auctions at a global level. Its (expanding) scope notably includes all major G20 countries and offers an especially fine tracking on Europe and South America.