Saudi Arabia opens tenders for five solar and wind projects totalling 3.3 GW
Saudi Arabia's Saudi Power Procurement Company (SPPC) has launched tenders for five new projects totalling 3.3 GW of renewable capacity, of which 1.8 GW for wind and 1.5 GW for solar.
The country is seeking to develop three wind projects: a 700 MW park in Yanbu (Red Sea coast), a 600 MW park in Al-Ghat (Riyad province) and a 500 MW park in Waad Al-Shamal (northern Saudi Arabia). For solar, the country is looking to build a 1.1 GW park in Al-Hinakiya (eastern Saudi Arabia) and a 400 MW park in Tabarjal (northern Saudi Arabia). No financial details were yet revealed. The projects are part of the country's National Renewable Energy Programme (NREP) and will support Saudi Arabia's goal of diversifying its power mix and shifting away from fossil fuels.
At the end of 2021, Saudi Arabia had 739 MW of installed solar capacity and only 3 MW of installed wind capacity. The country currently has 350 MW of solar projects under construction and 5.2 GW under development. It also has 240 MW of wind projects under construction and 1.3 GW under development. Saudi Arabia still heavily relies on gas (41 GW) and oil (48 GW) for power generation.
---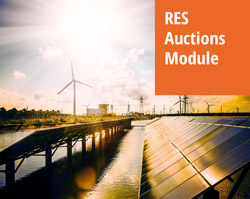 Discover our very detailed and regularly updated RES auctions database with worldwide coverage and a technical focus backed by academic research.
With our renewable energies auctions service you will be able to monitor auctions at a global level. Its (expanding) scope notably includes all major G20 countries and offers an especially fine tracking on Europe and South America.