Rosatom obtains a permit to build unit 2 of the Akkuyu NPP (Turkey)
Rosatom's Turkish subsidiary has obtained a construction license for the second unit of the Akkuyu Nuclear Power Plant from TAEK, the Turkey Atomic Energy Agency. The permit has been issued at the end of August 2019. In December 2018, the Turkish Atomic Energy Authority (TAEK) issued a partial license for the construction of Akkuyu unit 2. This preliminary document allowed Rosatom to start building facilities, except for the reactor installation. Previously (April 2018), Rosatom had secured the license for the first unit, for which the foundations are now nearly completed. The core catcher for unit 1 is expected to be installed before the end of 2019. Under its contractual terms, Rosatom has seven years to build each reactor from the date it receives all regulatory approvals. However, Turkey intends to bring unit 1 online in 2023, to coincide with the centenary of its foundation as a republic.
The Akkuyu Nuclear Power Plant will consist of four 1,200 MW VVER reactors for a total capacity of 4,800 MW, which are expected to meet 6% to 7% of Turkey's electricity demand once they are fully operational. Located in Mersin Province (southern Turkey), on the Mediterranean coast, the plant is being built at a cost of US$80 bn under a Build-Own-Operate (BOO) agreement. In August 2019, Akkuyu Nuclear, Rosatom's Turkish subsidiary, obtained a 7-year loan worth US$400m from the Russian bank Sberbank. 
Relying on imports for almost all its energy needs, the country wants to reduce its dependence on gas, which mainly comes from Russia.
---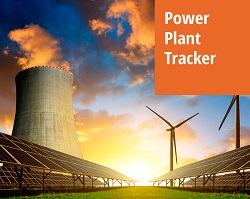 Enerdata has developed a market research service to screen, monitor and analyse the development of power generation assets.
Power Plant Tracker offers an interactive database and a powerful search engine covering power plants worldwide – including both installed and planned capacities for renewables and fossil fuels.