Pakistan seeks bids to import 1.7 bcm/year of LNG over six years
Pakistan LNG Limited (PLL), a state-owned company tasked with the import of LNG, has issued a tender to acquire 1.7 bcm/year of LNG over a six-year period. Specifically, bids are being solicited for 72 LNG term cargoes over the next six years, with each cargo containing 140,000 cm of LNG, at Port Qassim in Karachi on a delivered ex-ship (DES) basis. The tender is divided in two parts. The first part invites offers for only one year, 2023, beginning in December 2022 and ending in December 2023, during which 12 LNG cargoes would be supplied to the country, one cargo per month. The second part will target the delivery of 60 LNG cargoes over a five-year period, from January 2024 to December 1928 (one cargo every month).
Pakistan imports LNG since 2015 (10.5 bcm in 2020). The country has three FSRU LNG terminals with a total capacity of 21 bcm/year: one commissioned in 2021 by Engro with a capacity of 7.6 bcm/year, one commissioned in 2015 by ETPL with a capacity of 6.5 bcm/year, and Pakistan GasPort with a capacity of 6.8 bcm/year.
---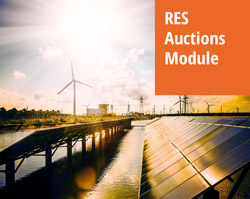 Discover our very detailed and regularly updated RES auctions database with worldwide coverage and a technical focus backed by academic research.
With our renewable energies auctions service you will be able to monitor auctions at a global level. Its (expanding) scope notably includes all major G20 countries and offers an especially fine tracking on Europe and South America.