Lebanon launches a second offshore oil and gas licensing round
The Lebanese Minister of Energy and Water has launched the second licensing round for eight offshore oil and gas blocks with the deadline for applications set for 15 June 2022. The round was initially approved in April 2019 but has been postponed several times due to the COVID-19 pandemic.
Large offshore hydrocarbon blocks, some of them located in a disputed maritime area with Israel, are estimated to have oil and gas reserves resources of about 1,100 mbl and 850 bcm, respectively. The United States is currently mediating between Lebanon and Israel to resolve the dispute over 860 km2 of water. Lebanon does not currently produce oil and gas. In December 2017, as part of Lebanon's first offshore licensing round, the country awarded two exclusive petroleum licenses for exploration and production in blocks 4 and 9 for the consortium composed of Total, Eni and Novatek.
---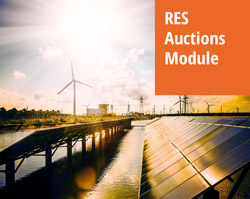 Discover our very detailed and regularly updated RES auctions database with worldwide coverage and a technical focus backed by academic research.
With our renewable energies auctions service you will be able to monitor auctions at a global level. Its (expanding) scope notably includes all major G20 countries and offers an especially fine tracking on Europe and South America.