Israel opens 4th round of gas exploration license tenders
The Ministry of Energy of Israel has issued the fourth round of tenders for offshore gas exploration, offering 20 exploration blocks up to 400 km2 each and totalling 5,888 km2, grouped into four zones within the Israeli EEZ. In some of the zones, exploration licenses have already been granted in the past, and seismic surveys and other exploration operations have been carried out, indicating a possible potential for the discovery of hydrocarbon reserves. Interested bidders will have to submit their bids by 30 June 2023 and the winners should be announced at the end of July 2023. The prospecting licenses will be awarded for a 3-year period, extendable twice for 2 years (maximum 7-year period).
Israel discovered large reserves of gas in the eastern Mediterranean in 2009 and its proven gas reserves are large, at a current estimated level of about 538 bcm (end of 2021). Israel's first offshore bid round closed in November 2017, a year after it was launched, granting 6 new exploration licences in Israeli waters. The second offshore bid round closed in July 2019 (8 months after its launch) with the award of 12 new exploration licenses. The third offshore bid round was launched in June 2020 offering a single exploration block (Block 72 close to the Karish and Tamar fields). However, winners were not announced and in December 2021, the country stopped awarding gas licenses for a year to focus on renewable energy. This decision was reversed in June 2022, when the government announced that it would award new exploration licenses as Europe was seeking to find alternative gas supplies to replace those previously obtained from Russia.
Meanwhile, TotalEnergy has announced plans to start drilling operations for its new offshore gas project in Lebanon (Block 9) as of 2023. The block is located in Lebanon's territorial waters, following the maritime border agreement recently reached with Israel. TotalEnergies owns 60% in Block 9, in partnership with Eni (40%).
---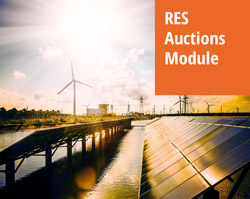 Discover our very detailed and regularly updated RES auctions database with worldwide coverage and a technical focus backed by academic research.
With our renewable energies auctions service you will be able to monitor auctions at a global level. Its (expanding) scope notably includes all major G20 countries and offers an especially fine tracking on Europe and South America.