Iraq intends to develop 10 GW of solar projects by 2025
Iraq plans to develop 10 GW of solar capacity by 2025 in partnership with international companies. The first step of the plan would be to develop a 750 MW solar plant. Iraq has less than 40 MW of solar capacity (2019) but it aims to raise its share to 20% of the power mix in the next few years. Electricity capacity has nearly tripled since 2010, from 12 GW to 35 GW in 2019. Gas represents about 60% of the capacity (59% in 2019, oil 34% and hydro 7%).
Meanwhile, the country plans to invest US$3bn in Basra Gas Company over the next five year to increase its gas production capacity to 1.4 bcm. The company is a joint venture between the Iraqi state (51%), Shell (44%) and Mitsubishi (5%). In 2019, Iraq produced 15.1 bcm of natural gas, while its domestic consumption reached 17.4 bcm. The country aims to more than double its gas production by 2025, from 1.5 bcf/d (over 15 bcm) to nearly 4 bcf/d (41.2 bcm/year).
---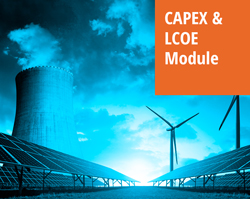 Then CAPEX & LCOE is the database you need. The module provides exclusive insights on both Capital Expenditure and Levelised Cost of Electricity.
Make informed decisions in terms of which technologies to invest in and where. In just a few clicks, access unique, premium data on both thermal and renewable power generation costs by technology and by country. Put our detailed, reliable information to use and benchmark your project.