India approves 550 MW of wind PPAs and cancels 950 MW of solar tenders
The Indian Ministry of New and Renewable Energy (MNRE) and the Power Trading Corporation (PTC) have signed Power Purchase Agreements (PPAs) with some wind project developers for 550 MW of wind power through India's first wind power auction scheme.
In February 2017, the Solar Energy Corporation of India (SECI) conducted e-reverse auction and selected successful wind power developers in April 2017: Mytrah Energy, Inox Wind, Ostro Kutch Wind and Green Infra were awarded 250 MW each, while Adani was awarded 50 MW. The tariff was set at Rs 3.46/kWh (US$5.37c/kWh). As part of the scheme, Uttar Pradesh will receive 450 MW, Bihar and Jharkhand 200 MW each, Delhi 100 MW, Assam and Odisha 50 MW each for meeting their Non-Solar Renewable Purchase Obligation (RPO).
In addition, the SECI has scrapped 950 MW of solar tenders in the states of Andhra Pradesh and Karnataka, that were announced between June and August 2016. The capacity included 650 MW at the Kadapa solar park Tranche 4 and 100 MW for tranche 5 in Andhra Pradesh and an additional 200 MW at the Pavagada tranche 4 solar park in Karnataka. The benchmark tariff for these two projects was Rs 4.43/kWh (US$6.9c/kWh), i.e. 81% more than the current solar cost (Rs 2.44/kWh). SECI will seek to renegotiate the capacity with state leaders, based on lower tariffs.
---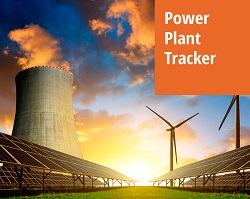 Enerdata has developed a market research service to screen, monitor and analyse the development of power generation assets.
Power Plant Tracker offers an interactive database and a powerful search engine covering power plants worldwide – including both installed and planned capacities for renewables and fossil fuels.