Iberdrola plans to develop offshore wind capacity in France and Poland
Iberdrola has announced plans to develop new offshore wind capacities in Europe. The Spanish group has pledged to invest €3-4bn over 2020-2024 in France to expand renewable energy projects. In March 2020, Iberdrola received the approval from the French Ministry of the Economy to acquire the 30% held by Avel Vor in the Ailes Marines consortium, which will develop, build and operate the 496 MW Saint-Brieuc offshore wind project off Brittany in France. With this acquisition, Iberdrola's stake in the €2.4bn project will rise from 70% to 100%. The Saint-Brieuc offshore wind project has secured all approvals - including that of the European Commission for its 20-year feed-in tariffs scheme - and construction is expected to start in 2021. The offshore wind park should be commissioned in 2023.
In addition, Iberdrola has signed a letter of intent (LoI) with Poland's energy group Enea to jointly develop offshore wind project in the Polish Baltic Sea. The two companies aim for a total of capacity of up to 3.3 GW. Enea intends to produce 33% of its electricity from renewables by 2030. In addition, the Polish government plans to pass a bill which propose to tender 4.6 GW of offshore wind capacity over 2020-2022, and 5.5 GW between 2023 and 2028.
Iberdrola is already generating power from three offshore wind parks, namely West of Duddon Sands (located in the United Kingdom, commissioned in 2014), Wikinger (Germany, 2017) and East Anglia ONE (United Kingdom, nearing completion and commissioning). The group plans to reach 3.1 GW of offshore wind capacity in the East Anglia zone of the North Sea by 2026. In addition, Iberdrola is developing two offshore wind projects in the German Baltic Sea, Baltic Eagle and Wikinger South (combined capacity of 486 MW) and two offshore wind projects in the United States, 800 MW Vineyard Wind off Massachusetts and an 804 MW project off Connecticut. Iberdrola aims to reach 2 GW of offshore wind capacity in late 2022 and 3 GW by 2024.
---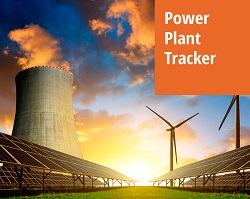 Enerdata has developed a market research service to screen, monitor and analyse the development of power generation assets.
Power Plant Tracker offers an interactive database and a powerful search engine covering power plants worldwide – including both installed and planned capacities for renewables and fossil fuels.
---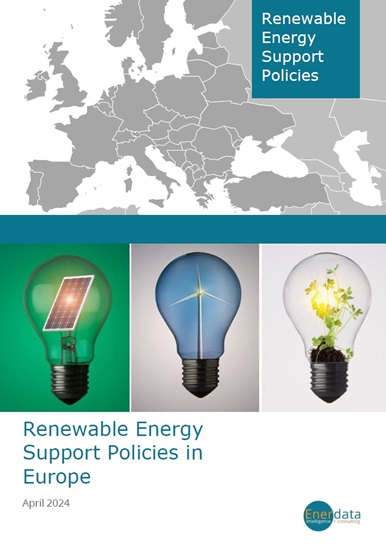 The European renewable report focuses on the different renewable energies for each country in Europe.
It covers the different support schemes used to promote renewable energy in for major sources of renewable energy: hydroelectricity, wind, solar, liquid biofuels for transportation, geothermal and oceanic sources (wave, tidal and thermal).