Iberdrola grows in offshore wind in the Philippines (3.5 GW) and the US (2 GW)
The Spanish energy group Iberdrola has reached an agreement with the Philippine wind developer Triconti ECC Renewables and Switzerland's Stream Invest Holding to develop five offshore wind projects in the Philippines with a total capacity of 3.5 GW.  All projects would be jointly developed by the companies. They are still in an early phase of development, having secured a Wind Energy Service Contract from the Philippines Department of Energy.
Additionally, Iberdrola has closed a deal to take over 2 GW of offshore wind capacity in the United States. As part of the restructuring of a joint venture agreement with Copenhagen Infrastructure Partners (CIP), Iberdrola's affiliate in the United States Avangrid Renewables takes full ownership of the 1,232 MW Commonwealth Wind project, which was selected in December 2021 as part of Massachusetts' third offshore wind competitive procurement process. The group also has sole ownership of the advanced 804 MW Park City Wind project in Connecticut with a PPA secured and BOEM permitting underway. Additionally, Iberdrola also retains 50% of the 800 MW Vineyard Wind 1 project in Massachusetts, which entered construction in the fourth quarter of 2021, and the right to take control of the project during the operational phase.
---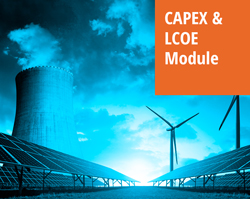 Then CAPEX & LCOE is the database you need. The module provides exclusive insights on both Capital Expenditure and Levelised Cost of Electricity.
Make informed decisions in terms of which technologies to invest in and where. In just a few clicks, access unique, premium data on both thermal and renewable power generation costs by technology and by country. Put our detailed, reliable information to use and benchmark your project.