Greece's latest wind auctions sets new price record
Greece's latest wind auction for 481 MW of capacity attracted 15 bids for nearly 472 MW of capacity, with prices ranging between €53.86/MWh and €57.70/MWh (weighted average of €55.67/MWh). Ascent Power submitted the lowest bid, while Vysima Ventavel submitted a bid of €54/MWh. Other winners included Thalia Energy, Greenfield Wind and Valorem. Three wind projects (102 MW) will be developed in Arcadia (southern Greece), with four developed in Beotia (central Greece, 95 MW) and two developed in Kozani (northern Greece, 82 MW).
In addition, a separate solar auction was run for 142 MW. The entire capacity was awarded. Prices ranged between €45.84/ MWh and €62.45/MWh with a weighted average of €49.81/MWh.
---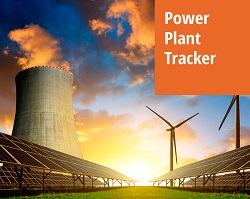 Enerdata has developed a market research service to screen, monitor and analyse the development of power generation assets.
Power Plant Tracker offers an interactive database and a powerful search engine covering power plants worldwide – including both installed and planned capacities for renewables and fossil fuels.