Germany awards 607 MW of solar capacity in two auctions
The German Federal Network Agency (Bundesnetzagentur or BNetzA) has released the results of the latest tenders for solar projects, with a bidding date set for 1 April 2022. The auction for 397 MW of innovative solar capacity (including solar plus storage, agrivoltaic systems or floating solar parks) attracted 45 bids totalling 435 MW of capacity, with price ranging from €3.95c/kWh to €7.43c/kWh (weighted average of €5.42c/kWh, compared to €4.55c/kWh in the previous round). Only bids for solar-plus-storage projects were submitted and 43 bids totalling 403 MW were selected. In addition, the state agency selected 163 bids totalling 204 MW in a tender for solar projects on buildings and noise barriers that offered an auctioned volume of 767 MW and attracted 171 bids totalling 212 MW.
In 2020, solar accounted for 23% of the country's installed capacity, with 53.8 GW. Solar capacity additions in Germany have been accelerating. They increased from an average of 1.4 GW/year between 2014 and 2017 to 2.8 GW in 2018, 3.8 GW in 2019 and 4.7 GW in 2020. According to preliminary estimates, solar capacity increased by another 4.7 GW in 2021.
---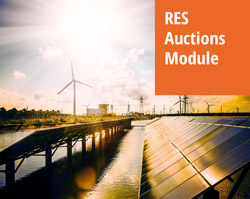 Discover our very detailed and regularly updated RES auctions database with worldwide coverage and a technical focus backed by academic research.
With our renewable energies auctions service you will be able to monitor auctions at a global level. Its (expanding) scope notably includes all major G20 countries and offers an especially fine tracking on Europe and South America.