Germany awards 1.5 GW of onshore wind projects in an oversubscribed tender
The German Federal Network Agency (Bundesnetzagentur or BNetzA) has published the results of the latest tenders for onshore wind with a bidding date set for 1 September 2021. The auction for 1,492 MW of onshore wind capacity attracted 210 bids totalling 1,824 MW. This is the first time a tender for onshore wind projects is oversubscribed since the December 2020 round. 44 bids were excluded and 1,494 MW were awarded, with prices ranging from €5.20c/kWh to €5.92c/kWh (weighted average of €5.79c/kWh, -2% compared to the previous round). The maximum value was set at €6c/kWh in this round. Many projects were awarded in Schleswig-Holstein (43 awards totalling 401 MW), North Rhine-Westphalia (51 awards, 315 MW) and Lower Saxony (19 awards, 265 MW). The next round of tenders for onshore wind energy is expected in February 2022.
---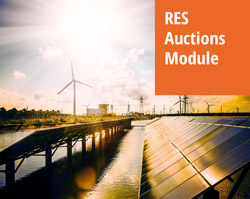 Discover our very detailed and regularly updated RES auctions database with worldwide coverage and a technical focus backed by academic research.
With our renewable energies auctions service you will be able to monitor auctions at a global level. Its (expanding) scope notably includes all major G20 countries and offers an especially fine tracking on Europe and South America.