France preselects companies for a 250 MW floating offshore wind project
The French Ministry of Ecological Transition has pre-selected ten companies or consortia for the construction of a 250 MW floating wind plant near Belle- Île-en-Mer in the south of Brittany (France). The project, which was officially approved in June 2021 after a public consultation, will the ninth offshore wind plant in France.
The preselected companies or consortia include Equinor, Iberdrola, RWE, Ocean Winds (a joint venture of Engie and EDPR), a consortium of CIP and Eni, Eoliennes Flottantes Bretagne Grand Large (EDF Renewables and Maple Power (a joint venture of Enbridge and CPPIB)), a consortium of Elicio and BayWa, a consortium of Shell, Valeco (EnBW) and Eolien en Mer Participations (Caisse des Dépôts et Consignations), a consortium of TotalEnergies, Green Investment Group and Quair, and a consortium of wpd, Vattenfall and BlueFloat Energy. They will participate to a competitive dialogue, which aims to reduce the cost the project and secure its implementation. The designation of the winter is scheduled in 2022, and commissioning is planned for 2029.
The country plans a second 500 MW floating offshore wind project located in the same area. France targets 2.4 GW of installed offshore wind capacity by 2023 and between 5.2 GW and 6.2 GW by 2028.
---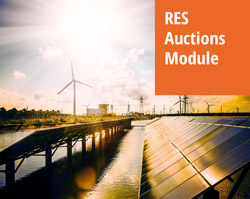 Discover our very detailed and regularly updated RES auctions database with worldwide coverage and a technical focus backed by academic research.
With our renewable energies auctions service you will be able to monitor auctions at a global level. Its (expanding) scope notably includes all major G20 countries and offers an especially fine tracking on Europe and South America.