Colombia plans to hold its first offshore wind tender in the 2nd half of 2023
The Colombian Ministry of Mines and Energy plans to launch the country's first offshore wind tender in the second half of 2023. Colombia will hold a competitive bidding process for offshore wind contracts within 18 months as it looks to exploit the 50 GW of offshore wind potential that it possesses on its northern coast.
The country's General Maritime Directorate (Direccion General Maritima or DIMAR) decided that the first projects will be located in the Central Caribbean zone, off the departments of Bolivar and Atlántico. DIMAR will be responsible for advancing the process of granting the Temporary Occupation Permit and the subsequent concession to investors with technical and financial capacity. These permits will provide exclusive rights for the exploration and development of offshore wind projects off the country's northern coastline.
Currently, there are two offshore wind projects announced in Colombia: the 350 MW Baranquilla project by Copenhagen Infrastructure Partners (CIP), expected in 2026, and the 200 MW Vientos Alisios project by BlueFloat Energy, expected in 2027. In 2021, wind represented less than 1% of Colombia's installed capacity with 56 MW (onshore). Two auctions in 2021, and two in 2019, awarded a total of 2.7 GW of onshore wind projects in the country.
---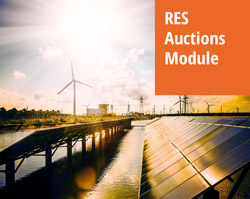 Discover our very detailed and regularly updated RES auctions database with worldwide coverage and a technical focus backed by academic research.
With our renewable energies auctions service you will be able to monitor auctions at a global level. Its (expanding) scope notably includes all major G20 countries and offers an especially fine tracking on Europe and South America.