Canada's Hydro-Québec awards 1.3 GW of renewable capacity in latest tender
The Canadian power utility Hydro-Québec has allocated seven bids totalling 1,303 MW of renewable energy capacity, of which 1,144 MW of wind power, under two calls for tenders. The calls were originally launched in December 2021 and were targeting 480 MW of energy from renewables and 300 MW of energy from wind. The competitive rounds were oversubscribed, as they drew a total of 27 bids totalling 4,205 MW.
Of the accepted projects, five bids totalling 1,001 MW were selected in the call targeting electricity from renewable energy sources, the largest ones being a 350 MW wind project to be developed by Invenergy (US) and a 270 MW project to be developed by EDF (France). The three other projects are two wind projects (120 MW and 102 MW, developed by EDF and Innergex respectively), as well as a 159 MW multiple energy project by Hydro-Québec. In addition, two bids were successful in the block for wind power generation, namely a 180 MW wind project by EDF and a 122 MW wind project by Algonquin Power Trust.
The average price of the accepted bids was CAD6.1c/kWh (US$4.4c/kWh). The allocated projects will all be situated in the eastern part of Canda's Québec Province.
In December 2022, Hydro-Québec announced a procurement strategy with a new mechanism targeting the development of over 4 GW of wind power in suitable areas in Canada by 2030.
---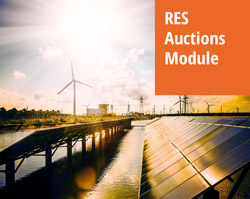 Discover our very detailed and regularly updated RES auctions database with worldwide coverage and a technical focus backed by academic research.
With our renewable energies auctions service you will be able to monitor auctions at a global level. Its (expanding) scope notably includes all major G20 countries and offers an especially fine tracking on Europe and South America.