Brazil unveils its PDE 2026 draft and expects 173 GW of renewables by 2026
The Brazilian Ministério de Minas e Energia (MME) and the energy agency Empresa de Pesquisa Energética (EPE) has unveiled the draft of the Plano Decenal de Expansão de Energia (PDE) 2026, the domestic 10-year energy sector expansion plan. The document shall be submitted for public consultation until August 2017. The last version was the PDE 2024 and there was no PDE 2025 publication due to changes in both the Brazilian government and the EPE.
In the document, EPE expects non-hydro renewables to grow significantly (around 3%/year) and reach up to 48% of the domestic energy mix by 2026. It foresees 173 GW of renewables installed capacity by 2026, of which 103.4 GW for hydro power, 28.4 GW for wind energy and 9.6 GW for solar PV.
As for non-renewables, they are expected to grow slowly and reach up to 26.6 GW in 2026, of which 3.3 GW for nuclear energy, 17.3 GW for natural gas-fired capacity and 3.5 GW for coal power.
Oil production is expected to reach 5 Mb/d in 2026, which is twice the 2016 amount. EPE points out that at the end of the decade, pre-salt formations will account for almost 75% of the output with a strong participation of Santos Basin.
---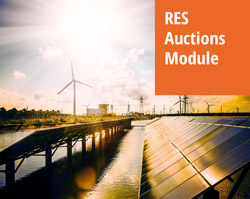 Discover our very detailed and regularly updated RES auctions database with worldwide coverage and a technical focus backed by academic research.
With our renewable energies auctions service you will be able to monitor auctions at a global level. Its (expanding) scope notably includes all major G20 countries and offers an especially fine tracking on Europe and South America.