Brazil registers 94 GW of projects for the A-5 auction in September 2021
The Brazilian state-owned company Energy Research Office (EPE) has registered 1,694 projects totalling 93,859 MW for the A-5 new energy auction, expected on 30 September 2021, including 52 gas-fired power projects totalling 34.6 GW, 32.3 GW of solar (835 projects) and 22.8 GW of wind (690 projects). In addition, 3 coal-fired power projects (1.3 GW), 31 biomass-fired projects (1.5 GW), 71 hydropower projects (1.1 GW) and 12 urban waste projects (315 MW) have registered for the auction. The winning projects will be with supported with power purchase agreements (PPAs) that will become effective on 1 January 2026. The PPAs will last 25-year for hydropower, 15-year for wind and solar and 20-year for other sources.
---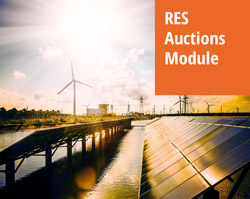 Discover our very detailed and regularly updated RES auctions database with worldwide coverage and a technical focus backed by academic research.
With our renewable energies auctions service you will be able to monitor auctions at a global level. Its (expanding) scope notably includes all major G20 countries and offers an especially fine tracking on Europe and South America.