BP, Eneco and Shell will bid in Dutch offshore wind lease sales (1.4 GW)
The Netherlands has received two new bids for two offshore wind leases, Hollandse Kust (west) (HKW) sites VI and VII, located approximately 53 km off the country's west coast and containing two wind project sites, with a total area of 176 km2 , which will accommodate 700 MW of offshore wind power capacity each as of 2026. A decision on who won the tender is scheduled after summer.
The first bid for the two leases was submitted by Shell and Eneco through their joint ventures Ecowende and SchakelWind. In addition, BP has submitted bids for the two leases, proposing to integrate the Site VII wind project with 500 MW of electrolysis capacity to produce 50,000 t/year of green hydrogen to meet BP's Rotterdam refinery demand and support 10,000 bbl/d production of sustainable aviation fuel. BP also plans to develop a new electric powered boiler and super heater for its Rotterdam refinery, and utility scale battery to support the integration of assets and a new electric vehicle charging station network, along with a low carbon multi-energy logistics hub.
In April 2022, Vattenfall announced that it would bid for the two sites, partnering with BASF for Site VI, and SSE Renewables and Brookfield set up a 50:50 partnership to jointly bid for the two leases.
---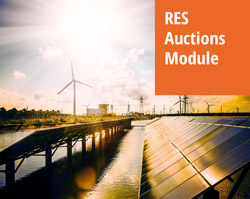 Discover our very detailed and regularly updated RES auctions database with worldwide coverage and a technical focus backed by academic research.
With our renewable energies auctions service you will be able to monitor auctions at a global level. Its (expanding) scope notably includes all major G20 countries and offers an especially fine tracking on Europe and South America.