Angola's Sonangol launches a tender for the Lobito refinery project
The Angolan state-owned oil and gas company Sonangol has issued a public tender to select entities that will acquire a stake in the 200,000 bbl/d (10 Mt/year) refinery project in Lobito, Benguela province and fund the project. Interested investors, which must present a track record of success in projects of similar scope, have four months to submit their bids. Construction started in 2012 but stopped several times. Sonangol has already carried out several phases of the project, including the economic feasibility study, reassessment of the feed, dredging of Lobito bay, preparation of the terraces and conduct of the heavy load road. The project is expected to be completed in 2025. 
Angola has one single operational refinery in Luanda, which was commissioned in 1958 and can process 65,000 bbl/d (3.25 Mt/year). To reduce its external dependence on import of refined oil products, the country is encouraging the development of new refineries: Namref is developing a 400,000 bbl/d (20 Mt/year) refinery in Giraul de Baixo; Sonagol is also considering a 400,000 bbl/d (20 Mt/year) refinery in Ambriz; In March 2021, the Quantem consortium (American companies TGT, Quantem, Aurum & Sharp and the Angolan company Atis-Nebest), won a build, own and operate (BOO) contract for the 100,000 bbl/d Soyo refinery in the Zaire province of Angola. In addition, Gemcorp elected the Brazilian construction company Odebrecht to build the 60,000 bbl/d Cabinda refinery project in the Malembo plain (Cabinda province). Construction started in March 2021 and is to be completed in 2022.
---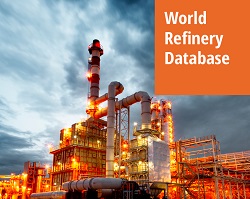 Use this powerful business intelligence tool to assess current and future production capacities of oil products by country and by zone. Gain insight into companies' asset portfolios and future trends for refined oil production capacities, giving you the ultimate edge for strategy and decision-making.