120 MW Malicounda gas-fired plant in Senegal reaches financial close
The 120 MW gas-fired project in Malicounda (Senegal) has reached financial close for a total project cost of €154m. The Malicounda power plant, which started commercial operations in August 2022, was developed by MP Energy acting on behalf of the main sponsor Melec PowerGen (MPG). The senior debt was provided by the African Development Bank (AfDB), acting as the mandated lead arranger, the Arab Bank for Economic Development in Africa (BADEA), the West African Development Bank (BOAD) and the OPEC Fund for International Development (OFID).
The combined-cycle (CCGT) power plant is capable of producing more than 956 GWh/year of baseload energy sold to the Senegalese state-owned power utility Senelec under a 20-year power purchase agreement (PPA). The project is also designed to convert to the use of natural gas as soon it comes on stream from domestic fields which are currently under development, shifting Senegal's energy mix to cleaner fuel.
---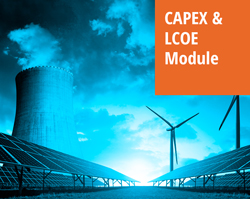 Then CAPEX & LCOE is the database you need. The module provides exclusive insights on both Capital Expenditure and Levelised Cost of Electricity.
Make informed decisions in terms of which technologies to invest in and where. In just a few clicks, access unique, premium data on both thermal and renewable power generation costs by technology and by country. Put our detailed, reliable information to use and benchmark your project.