Sweden Energy Information
Population: 10.3 million
GDP growth rate: 1.23 %/year
Energy independence: 74.7%

Data of the last year available: 2019
Total consumption/GDP:* 69.9 (2015=100)
CO2 Emissions: 3.81 tCO2/capita
Rate of T&D power losses: 5.99%

* at purchasing power parity
View all news, archive your new and create your own daily newsletters only on your topics/countries of interest with Key Energy Intelligence
Total Energy Consumption
In 2019, total energy consumption per capita was 4.6 toe, which is 48% above the EU average. At 11 700 kWh, the country's electricity consumption per capita is the second highest in the EU (2.1 times higher than the EU average).
Graph: CONSUMPTION TRENDS BY ENERGY SOURCE (Mtoe)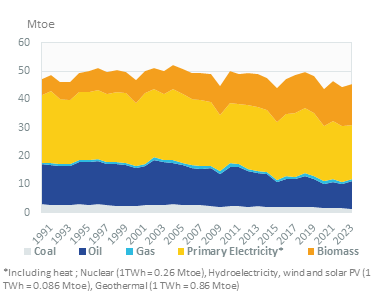 Interactive Chart Sweden Total Energy Consumption
Crude Oil Production
Sweden does not produce oil. In 2019, Sweden imported 16.7 Mt of crude oil, mainly from Norway (40%), Russia (31%), and Nigeria (14%).
The country has a refining capacity of 440 000 bbl/d distributed over five refineries and is a net exporter of refined products (around 2 Mt in 2019).Sweden has a storage capacity of around 73 000 bbl for refined oil products, which corresponds to a consumption of approximately 300 days, and of 22 000 bbl for crude oil. The total oil storage capacity of 95 000 bbl is distributed over about 30 storage facilities across the country.
Interactive Chart Sweden Crude Oil Production
Oil Products Consumption
The consumption of oil products has remained stable since 2013 at close to 10 Mt (10.7 Mt in 2019). It fell by 35% between 2002 and 2015 (-3.3%/year).
Graph: OIL CONSUMPTION (Mt)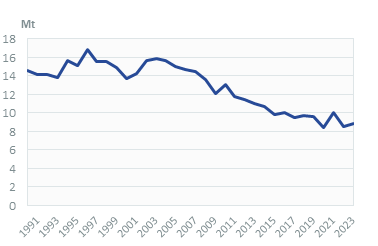 Transport accounted for 58% of oil consumption in 2019, industry for 26%, while the share of the residential-services-agriculture sector stood at 7%.
Graph: OIL CONSUMPTION BREAKDOWN BY SECTOR (2019, %)
Interactive Chart Sweden Refined Oil Products Production
Natural Gas Consumption
Since 2014, natural gas consumption increased by 3.7%/year to 1.1 bcm in 2018. Previously, it declined by more than 40% between 2010 (1.6 bcm) and 2014 (0.9 bcm).
Graph: NATURAL GAS CONSUMPTION (bcm)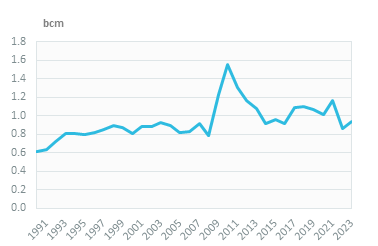 In 2019, industry absorbed 35% of the natural gas consumption (up from 31% in 2010). It is followed by power plants at 19% (down from 50% in 2010) and buildings (residential, services, and agriculture) with 12%.
Graph: GAS CONSUMPTION BREAKDOWN BY SECTOR (2019, %)
Interactive Chart Sweden Natural Gas Domestic Consumption
Coal Consumption
Coal consumption declined by almost 40% between 2010 and 2019 to 2.8 Mt.
Graph: COAL CONSUMPTION (MT)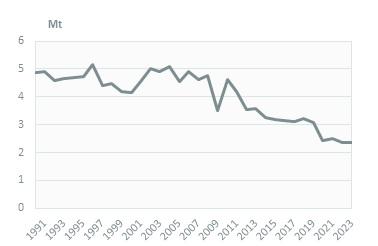 Industry (mainly steel) accounted for 71% of the consumption in 2019, while the power sector represented 20%.
Graph: COAL CONSUMPTION BREAKDOWN BY SECTOR (2019, %)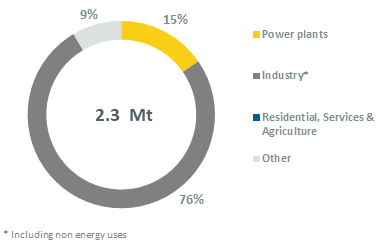 Interactive Chart Sweden Coal and Lignite Domestic Consumption
Power Consumption
Electricity consumption declined by 10% in 2019 to 120 TWh, after a period of stability between 2016 and 2018. The reduction came from all sectors.
Graph: ELECTRICITY CONSUMPTION (TWh)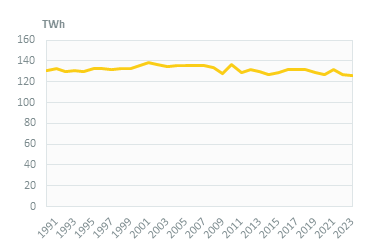 Industry consumption represents 37% of total electricity consumption; the remainder is divided between households (35%) and services (21%) (2019).
Graph: ELECTRICITY CONSUMPTION BREAKDOWN BY SECTOR (2019, %)
Renewable in % Electricity Production
STEM is also in charge of implementing the renewable energy policy and is the accounting authority for certificates and guarantees of origin since 2015.
The national target of a share of 49% of renewables in final consumption in 2020 was achieved in 2012 (around 55% in 2018). The country is expected to reach a share of 60% of renewables in final consumption by 2027 and 65% by 2030, according to its indicative trajectory.
Interactive Chart Sweden Share of Renewables in Electricity Production (incl hydro)
CO2 Fuel Combustion/CO2 Emissions
In 2018, GHG emissions were 26% lower than in 1990.
In 2016, the government signed an Energy Agreement with the main political parties. The text targets net zero emissions by 2045, with negative emissions thereafter, and a 100% renewable electricity production by 2040. In addition, the parliament introduced a Climate Policy Framework in 2017, which stipulates that remaining emissions from activities will be at least 85% lower in 2045 than in 1990. Emissions from domestic transport will be reduced by at least 70% by 2030 compared with 2010.
Shopping cart
Your shopping cart is empty.
Secured payment by