Senegal Energy Information
Population: 16.3 million
GDP growth rate: 5.29 %/year
Energy independence: 36.2%

Data of the last year available: 2019
Total consumption/GDP:* 88.8 (2015=100)
CO2 Emissions: 0.49 tCO2/capita
Rate of T&D power losses: 14.0%

* at purchasing power parity
View all news, archive your new and create your own daily newsletters only on your topics/countries of interest with Key Energy Intelligence
Total Energy Consumption
Per capita energy consumption is 0.29 toe, including approximately 270 kWh of electricity (2019).
Total energy consumption is growing rapidly (+3.6%/year, on average, since 2000) and reached 4.7 Mtoe in 2019, nearly twice its 2000 level.
In 2019, oil covered 57% of the country's energy needs, biomass (mainly wood) 35%, and coal 7%.
Graph: CONSUMPTION TRENDS BY ENERGY SOURCE (Mtoe)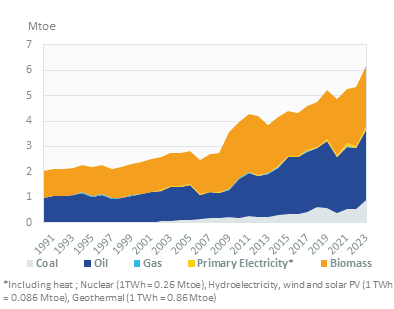 Graph: TOTAL CONSUMPTION MARKET SHARE BY ENERGY (2019, %)
Interactive Chart Senegal Total Energy Consumption
Crude Oil Production
There is no oil production. Supplies are covered by imports of either crude oil or refined products. In 2019, Senegal imported 1 Mt of crude oil and 1.9 Mt of oil products.
Senegal has one refinery in M'Bao near Dakar with a capacity of 25 000 bbl/d. Built in 1963, it does not have secondary conversion units. Consequently, its production is limited both by the crude range and by the variety of the distillates produced.
Interactive Chart Senegal Crude Oil Production
Renewable in % Electricity Production
ANER, the National Agency for Renewable Energy, was created in 2013 to promote renewables.
Interactive Chart Senegal Share of Renewables in Electricity Production (incl hydro)
CO2 Fuel Combustion/CO2 Emissions
In 2015, the country presented its INDC (Intended Nationally Determined Contribution) for the COP21 in Paris. It defined two levels of contribution, CPDN and CPDN+ (Contribution Prévue Déterminée au niveau National). The GHG emission reduction targets are 4% by 2020, 7% by 2025 and 6% by 2030, compared to a BaU scenario for CPDN. For CPDN+, the GHG emission reduction targets are 10% by 2020, 23% by 2025 and 31% by 2030. The actual reduction will depend on the availability of international support for financing, capacity building and technology transfer.
Shopping cart
Your shopping cart is empty.
Secured payment by