Russia Energy Information
Population: 145 million
GDP growth rate: 1.34 %/year
Energy independence: 100%

Data of the last year available: 2019
Total consumption/GDP:* 86.6 (2015=100)
CO2 Emissions: 11.9 tCO2/capita
Rate of T&D power losses: 10.0%

* at purchasing power parity
View all news, archive your new and create your own daily newsletters only on your topics/countries of interest with Key Energy Intelligence
Total Energy Consumption
Total per capita consumption reached 5.3 toe in 2019. Per capita electricity consumption was around 6 400 kWh.
Total energy consumption has been increasing rapidly since 2015, by 2.6%/year, to 768 Mtoe in 2019. Previously, it had decreased slightly between 2012 and 2015 (-1%/year) due to an economic slowdown and a recession in 2015.
In 2019, gas represented the largest share of consumption (54%), followed by oil (20%), coal (16%), nuclear (7%), hydro (2%), and biomass (1%).
Graph: CONSUMPTION TRENDS BY ENERGY SOURCE (Mtoe)
Interactive Chart Russia Total Energy Consumption
Crude Oil Production
Oil production has been increasing by 1.4%/year since 2004, from 456 Mt to 561 Mt in 2019. In 2019, Russia was the world's third largest crude oil producer, after the USA and Saudi Arabia.
Interactive Chart Russia Crude Oil Production
Oil Products Consumption
Oil consumption has remained roughly stable since 2012 at about 150 Mtoe.
Graph: OIL CONSUMPTION (Mt)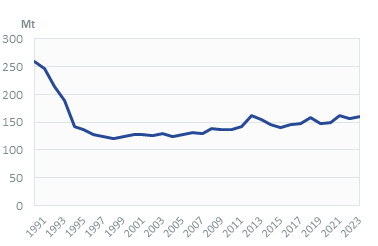 Transport is the largest oil consuming sector with 44% of total oil products, ahead of industry (33%, including non-energy uses) and the residential-tertiary-agriculture sector (14%).
Graph: OIL CONSUMPTION BREAKDOWN BY SECTOR (2019, %)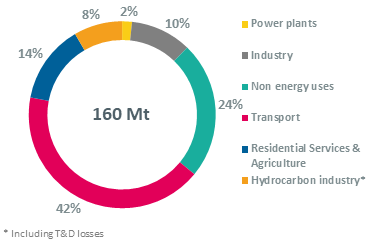 Interactive Chart Russia Refined Oil Products Production
Natural Gas Consumption
Gas consumption has soared by 12.8%/year since 2017, reaching 501 bcm in 2019.
Gas is mainly consumed in the electricity sector (39%). Industry represents 20% and the residential-services sector 18%.
Graph: NATURAL GAS CONSUMPTION (bcm)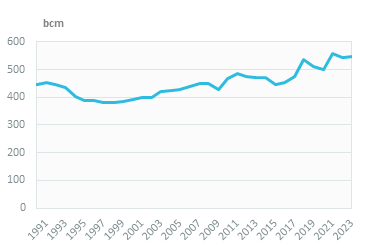 Graph: GAS CONSUMPTION BREAKDOWN BY SECTOR (2019, %)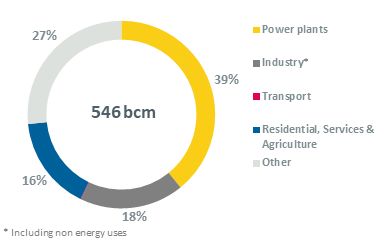 Interactive Chart Russia Natural Gas Domestic Consumption
Coal Consumption
Coal and lignite consumption has been increasing by 2.8%/year since 2014 to 229 Mt in 2019. Most of the coal and lignite is consumed in power plants (56% in 2019).
Graph: COAL CONSUMPTION (Mt)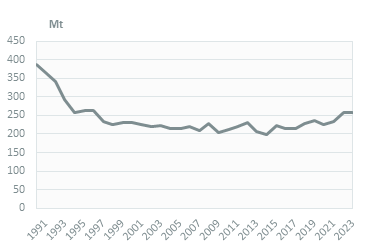 Graph: COAL CONSUMPTION BREAKDOWN BY SECTOR (2019, %)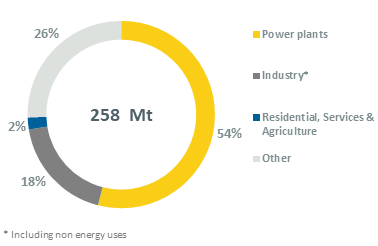 Interactive Chart Russia Coal and Lignite Domestic Consumption
Power Consumption
Total electricity consumption has increased slightly since 2010 (0.9%/year), reaching 929 TWh in 2019.
Industry is the main electricity consumer with 37% of the total (-9 points since 2000), ahead of the residential sector with 18% (20% in 2000) and services with 17% (doubling since 2000). Transport accounts for 6% of total electricity consumption, i.e. a significant share compared to other countries, due to the strong presence of public transport.
Graph: ELECTRICITY CONSUMPTION (TWh)
Renewable in % Electricity Production
The Government target, set in 2014 (State Programme on Energy Efficiency and Energy Development), for a 2.5% share of wind and solar in electricity generation by 2020 will not be reached, with only 1.2 GW installed at the end of 2019 and around 1.4 GW commissioned or under construction in 2020.
Interactive Chart Russia Share of Renewables in Electricity Production (incl hydro)
CO2 Fuel Combustion/CO2 Emissions
Russia ratified the Paris agreement in September 2019. In November 2020, the country submittedits first NDC to the UNFCCC. By 2030, the country aims to limit GHG emissions to 70% of their 1990 level (3.1 GtCO2eq), corresponding to a 30% cut in GHG emissions over 1990-2030. Earlier, in November 2020, the Russian president signed a decree ordering the government to work towards a cut in GHG emissions to 70% of their 1990 level by 2030, taking into account the maximum possible absorptive capacity of forests.
Shopping cart
Your shopping cart is empty.
Secured payment by