Mexico Energy Information
Population: 129 million
GDP growth rate: -8.5 %/year
Energy independence: 97.3%

Data of the last year available: 2020
Total consumption/GDP:* 68.7 (2005=100)
CO2 Emissions: 2.87 tCO2/capita
Rate of T&D power losses: 14.8%

* at purchasing power parity
View all news, archive your new and create your own daily newsletters only on your topics/countries of interest with Key Energy Intelligence
Total Energy Consumption
Total energy consumption per capita is 1.2 toe and electricity consumption per capita reached around 2 100 kWh (2020).
The COVID-19 pandemic was responsible for a sharp 14% reduction in total energy consumption to 151 Mtoe, which corresponds to 2000 levels. Previously, total energy consumption had been decreasing since 2013 (by 1.5%/year over 2013-2019).
Graph: CONSUMPTION TRENDS BY ENERGY SOURCE (Mtoe)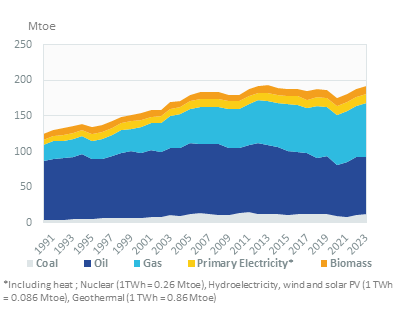 Interactive Chart Mexico Total Energy Consumption
Crude Oil Production
Since a peak level in 2004 at 191 Mt, oil production fell by 4.6%/year on average until 2019 and remained stable in 2020 (95 Mt). Approximately 70% of the production is extracted in the Bay of Campeche, in the south of the Gulf of Mexico (offshore). Mexico's sliding oil production is mainly explained by the decline of the Cantarell field (from 2 mb/d in 2004 to 0.16 mb/d in 2018 and no production since 2019). Around 63% of the production is exported (60 Mt in 2020).
Interactive Chart Mexico Crude Oil Production
Oil Products Consumption
The consumption of oil products dropped by 17% in 2020, to 64 Mt. It has been decreasing since 2012 with an acceleration since 2016 (-3%/year over 2016-2019 compared to -0.7%/year over 2012-2016. Between 2005 and 2012, it remained largely stable (around 90 Mt).
Transport represents around 55% of the demand, followed by power plants (13%), residential, services and agriculture (13%), and industry (10%).
Graph: OIL CONSUMPTION (Mt)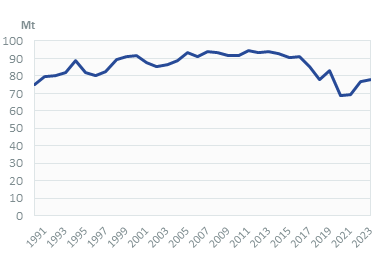 Interactive Chart Mexico Refined Oil Products Production
Natural Gas Consumption
Gas demand dropped by almost 10% in 2020, reaching 78 bcm. Before that, it was growing regularly (2%/year over 2012-2019). However, this progression was much slower than over 2000-2012 (~5%/year), when numerous CCGTs were commissioned (+19 GW).
Graph: NATURAL GAS CONSUMPTION (bcm)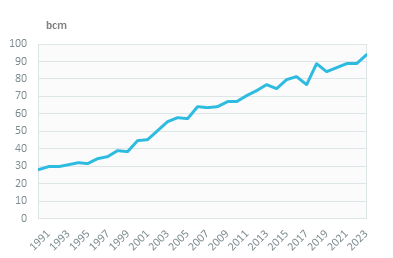 About 62% of the demand is used for power production, 21% by industry, and 15% by the oil and gas sector (2020). Gas use in buildings (residential and services) remains marginal (2%).
Interactive Chart Mexico Natural Gas Domestic Consumption
Coal Consumption
The demand for coal has been decreasing rapidly since 2010, with a more striking reduction in 2020 (-34%), reaching 13.5 Mt, the lowest level in 20 years. Around 60% of the consumption is used for power generation.
Graph: COAL CONSUMPTION (Mt)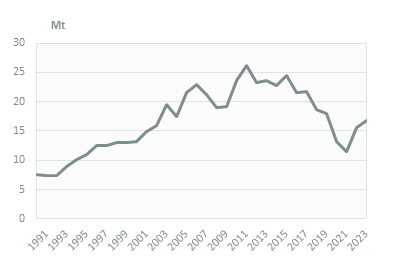 Graph: COAL CONSUMPTION BREAKDOWN BY SECTOR (2020, %)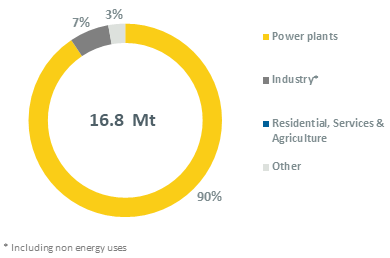 Interactive Chart Mexico Coal and Lignite Domestic Consumption
Power Consumption
Electricity consumption decreased by 3% in2020, down to 274 TWh. It has been decreasing since 2018 (2%/year), after a rapid increase (around 4%/year) from 2000 to 2018.
In 2020, industry's share was around 52%, followed by households (24%) and services (19%). About 99% of the population is connected to the grid.
Graph: ELECTRICITY CONSUMPTION (TWh)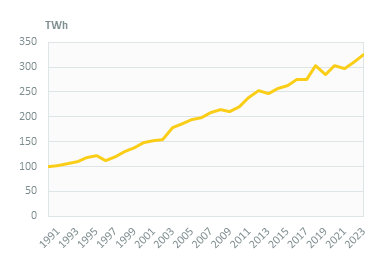 Graph: ELECTRICITY CONSUMPTION BREAKDOWN BY SECTOR (2020, %)
Renewable in % Electricity Production
The General Law on Climate Change ("LGCC") sets the target of a 35% share for "clean energies" (nuclear, CHP and CCS) in total power generation in 2024, 37.7% in 2030 and 50% in 2050. SENER now expects to reach a share of 50% earlier, in 2034.
Interactive Chart Mexico Share of Renewables in Electricity Production (incl hydro)
CO2 Fuel Combustion/CO2 Emissions
In its NDC, the country is committed to cutting GHG emissions by 22% in 2030 compared to BAU levels. Emissions of black carbon should be cut by 51% below BAU by 2030. Mexico could raise its emission reduction targets to 36% (black carbon emissions to 70%) if it gains access to climate funds or if a global carbon price is set.
CO2 emissions from combustion decreased by 4% in 2019 and 16% in 2020 down to 371 Mt, after remaining rather stable between 2015 and 2018. Previously, they increased by 75% from 1990 to 2012.
Graph: CO2-ENERGY EMISSIONS (MtCO2)
Shopping cart
Your shopping cart is empty.
Secured payment by