Kenya Energy Information
Population: 52.6 million
GDP growth rate: 5.37 %/year
Energy independence: 81.0%

Data of the last year available: 2019
Total consumption/GDP:* 84.7 (2005=100)
CO2 Emissions: 0.31 tCO2/capita
Rate of T&D power losses: 25.4%

* at purchasing power parity
View all news, archive your new and create your own daily newsletters only on your topics/countries of interest with Key Energy Intelligence
Total Energy Consumption
Total per capita energy consumption is around 0.54 toe (2019). Per capita electricity consumption is around 170 kWh, which is much higher than neighbour countries (60% higher than in Tanzania, twice that in Uganda).
Graph: CONSUMPTION TRENDS BY ENERGY SOURCE (Mtoe)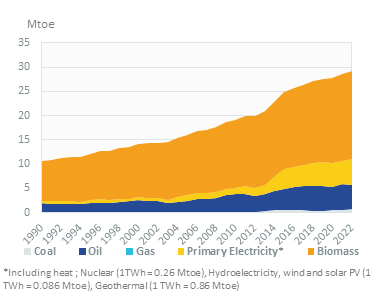 Total energy consumption has increased quite rapidly since 2010 (4%/year).
Graph: TOTAL CONSUMPTION MARKET SHARE BY ENERGY (2019, %)
Interactive Chart Kenya Total Energy Consumption
Crude Oil Production
The country has four exploration basins: Lamu, Mandera, Anza, and Tertiary Rift. Oil production started in 2019 at the Turkana oil fields.
Since the closure of the Mombasa refinery in 2013, Kenya imports all its refined oil products, around 40% of which is of diesel (2019).
Interactive Chart Kenya Crude Oil Production
Renewable in % Electricity Production
RERAC, the Renewable Energy Resources Advisory Committee, is in charge of regulating the development of the renewable energy policy.
REREC is the lead agency for the development of renewables other than geothermal and large hydro.
GDC, Geothermal Development Company (100% state-owned) was created in 2008 to fast track the development of geothermal resources.
Kenya benefits from the Scaling-up Renewable Energy Program (SREP) developed by the Strategic Climate Fund, which is part of the Climate Investment Funds (CIF).
Interactive Chart Kenya Share of Renewables in Electricity Production (incl hydro)
CO2 Fuel Combustion/CO2 Emissions
In its updated NDC published in December 2020, the country set a GHG emissions reduction target of 32% in 2030 (30% previously), compared to a BaU scenario. To reach this target, Kenya commits to mobilize resources to meet 13% of the budget, estimated at 62SU$bn, and will require international support for 87% of the budget.
Kenya's CO2 emissions from energy combustion increased by around 5%/year, on average, between 2000 to 2016 and have remained largely stable since 2016.
Graph: CO2-ENERGY EMISSIONS (MtCO2)
Shopping cart
Your shopping cart is empty.
Secured payment by