Israel Energy Information
Population: 9.06 million
GDP growth rate: 3.50 %/year
Energy independence: 40.6%

Data of the last year available: 2019
Total consumption/GDP:* 78.6 (2015=100)
CO2 Emissions: 7.52 tCO2/capita
Rate of T&D power losses: 3.99%

* at purchasing power parity
View all news, archive your new and create your own daily newsletters only on your topics/countries of interest with Key Energy Intelligence
Total Energy Consumption
Israel's consumption per capita is 2.7 toe (including around 6 700 kWh of electricity) (2019).
Since 2014, total consumption has increased by 2.2%/year (24 Mtoe in 2019).
The total energy consumption per unit of GDP is decreasing very rapidly (-3%/year since 2010).
Graph: CONSUMPTION TRENDS BY ENERGY SOURCE (Mtoe)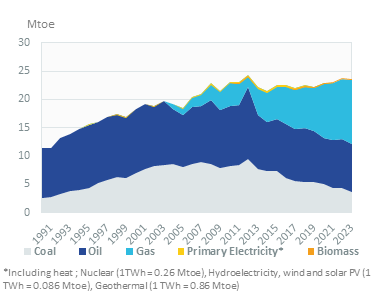 Graph: TOTAL CONSUMPTION MARKET SHARE BY ENERGY (2019, %)
Interactive Chart Israel Total Energy Consumption
Crude Oil Production
Oil production is limited (76 kt). Crude oil imports reached 14 Mt in 2019.
Only one of the three pipelines that cross Israel, the Trans-Israel pipeline or Tipline, is operating. The two other pipelines connect Haïfa to Saudi Arabia (Trans-Arabian Pipeline or Tapline, of 500 000 bbl/d), and to Iraq.
The country has 2 refineries: Haifa (196 000 bbl/d) and Ashdod (100 000 bbl/d). Oil Refineries commissioned a new hydrocracking unit of 25 000 bbl/d at its Haifa refinery in 2013 (investment of US$670m) to produce cooking gas, naphtha, kerosene and high-quality diesel.
Interactive Chart Israel Crude Oil Production
Renewable in % Electricity Production
In 2011, the Cabinet approved a plan to promote the production of electricity from renewables. The decision sets a target of 2 760 MW of renewables by the end of 2020, constituting 10% of the power mix. The interim goal, set at 1 550 MW for 2014, was not achieved (1 472 MW reached in 2019).
In its NDC, the Government adopted a target of 17% of renewables in electricity production in 2030.
Interactive Chart Israel Share of Renewables in Electricity Production (incl hydro)
CO2 Fuel Combustion/CO2 Emissions
In its NDC, the country has committed to cut per capita GHG emissions to 7.7 tCO2eq by 2030. This represents a reduction of 26% compared to 2005 emissions levels. An interim target of 8.8 tCO2eq per capita is expected by 2025. In 2015, this level was around 9.6 tCO2eq per capita.
Shopping cart
Your shopping cart is empty.
Secured payment by