Israel Energy Information
Population: 9.23 million
GDP growth rate: -6.2 %/year
Energy independence: 54.2%

Data of the last year available: 2020
Total consumption/GDP:* 71.2 (2005=100)
CO2 Emissions: 6.39 tCO2/capita
Rate of T&D power losses: 4.14%

* at purchasing power parity
View all news, archive your new and create your own daily newsletters only on your topics/countries of interest with Key Energy Intelligence
Total Energy Consumption
Israel's consumption per capita is 2.4 toe (including around 6 600 kWh of electricity) (2020).
Since 2015, consumption has been quite stable at around 22 Mtoe.
In 2019, it reached a peak of 23.2 Mtoe, but dipped by 11% in 2020 to around 21 Mtoe.
The total energy consumption per unit of GDP is decreasing very rapidly (around -3.6%/year since 2010).
Graph: CONSUMPTION TRENDS BY ENERGY SOURCE (Mtoe)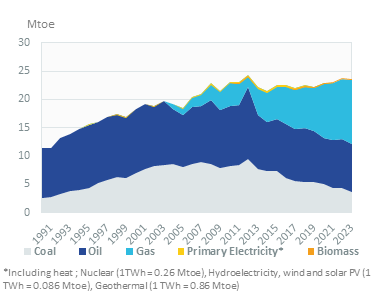 Interactive Chart Israel Total Energy Consumption
Crude Oil Production
Oil production is limited (211 kt). Crude oil imports dropped by around 20% in 2020.
The country has 2 refineries: Haifa (196 000 bbl/d) and Ashdod (100 000 bbl/d). Oil Refineries commissioned a new hydrocracking unit of 25 000 bbl/d at its Haifa refinery in 2013 (investment of US$670m) to produce cooking gas, naphtha, kerosene and high-quality diesel.
Interactive Chart Israel Crude Oil Production
Renewable in % Electricity Production
In 2011, the Cabinet approved a plan to promote the production of electricity from renewables. The decision sets a target of 2 760 MW of renewables by the end of 2020, constituting 10% of the power mix. The goal was not achieved (1 773 MW reached in 2020, representing almost 9% of the power mix).
In its National Energy Efficiency Programme, the Government adopted a target of 30% of renewables in power generation in 2030 (intermediate target of 20% by 2025). In October 2020, it approved a plan to deploy around 15 GW of solar capacity to help meet these targets.
Interactive Chart Israel Share of Renewables in Electricity Production (incl hydro)
CO2 Fuel Combustion/CO2 Emissions
In July 2021, Israel unveiled a plan to cut greenhouse gas (GHG) emissions by 27% by 2030 and by at least 85% by 2050 compared to 2015 levels. The targets include a 96% reduction in GHG emissions from transport, an 85% reduction from the electricity sector, and a 92% reduction in the municipal waste sector.
Shopping cart
Your shopping cart is empty.
Secured payment by