Estonia Energy Information
Population: 1.32 million
GDP growth rate: 4.33 %/year
Energy independence: 100%

Data of the last year available: 2019
Total consumption/GDP:* 65.9 (2015=100)
CO2 Emissions: 9.65 tCO2/capita
Rate of T&D power losses: 5.72%

* at purchasing power parity
View all news, archive your new and create your own daily newsletters only on your topics/countries of interest with Key Energy Intelligence
Total Energy Consumption
Total energy consumption per capita is about 3.6 toe/cap (2019), i.e. 16% above the EU average. This is mainly due to the high share of oil shale, since it requires a significant amount of energy to be processed: in 2019, the fall in oil shale-fired power generation resulted in a 24% fall in the energy consumption per capita. Electricity consumption is in line with the EU average (5 900 kWh, +6%).
Graph: CONSUMPTION TRENDS BY ENERGY SOURCE (Mtoe)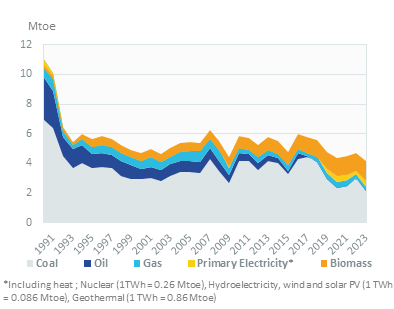 Interactive Chart Estonia Total Energy Consumption
Crude Oil Production
All of the country's oil product consumption is imported (1.3 Mt in 2019). Gasoline imports remained stable at 403 kt in 2019, while diesel imports dipped by 8% to 814 kt. Oil products used to come mainly from Russia, which is no longer the case (43% of the imports in 2019). Besides Russia, imports came from Lithuania (31%) and Finland (10%) in 2019.
Interactive Chart Estonia Crude Oil Production
Oil Products Consumption
Oil product consumption has remained stable at around 1 Mtoe since 2010. It rose very rapidly between 2000 and 2007 (3.3%/year).
Graph: OIL CONSUMPTION (Mt)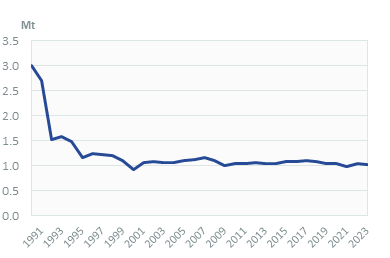 Transport absorbs nearly 73% of the consumption, followed by the residential and services sector (12%) and industry (12%) (2019).
Graph: OIL CONSUMPTION BREAKDOWN BY SECTOR (2019, %)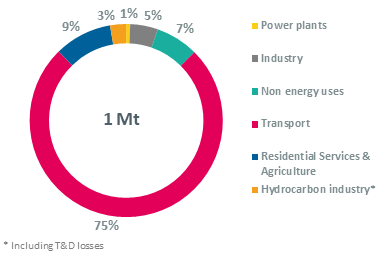 Interactive Chart Estonia Refined Oil Products Production
Natural Gas Consumption
Gas consumption has remained stable since 2015 at around 0.5 bcm. It halved between 2008 and 2015, because of the economic crisis (-32% in 2009 alone), the progressive conversion of heat producers to other fuels (especially biomass), and the closure of a large fertiliser plant in 2014.
District heating is the main natural gas consumer (34% of consumption in 2019). Nearly 1/3 of the gas (36% in 2019) is consumed by the residential-tertiary-agriculture sector (including 19% for services and 15% households) and 26% by industry.
Graph: NATURAL GAS CONSUMPTION (bcm)
Interactive Chart Estonia Natural Gas Domestic Consumption
Coal Consumption
Oil shale consumption, which grew by 3.1%/year (+54%) between 2000 and 2014 when it reached 21 Mt, has ranged between 18 Mt and 22 Mt since then. Consumption fell by 27% in 2019 to 15.9 Mt (reduced consumption in the power sector).
In 2019, 38% of oil shale was consumed by power plants and 59% by district heating plants and liquefaction plants (to produce shale oil)
Graph: OIL SHALE CONSUMPTION (Mt)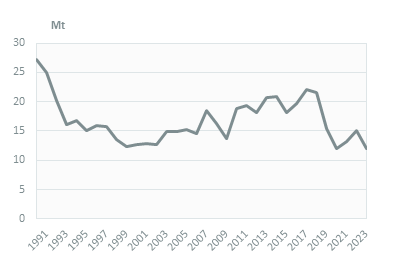 Graph: OIL SHALE CONSUMPTION BREAKDOWN BY SECTOR (2019, %)
Interactive Chart Estonia Coal and Lignite Domestic Consumption
Power Consumption
Electricity consumption has been rather stable at around 8 TWh since 2016, declining by 2.7% to 7.8 TWh in 2019. It increased rapidly (+4.1%/year) between 2000 and 2007, but grew at a much slower pace thereafter (+1.4%/year, on average, between 2009 and 2016).
Services account for 37% of power consumption, followed by households (27%) and industry (27%) (2019).
Graph: ELECTRICITY CONSUMPTION (TWh)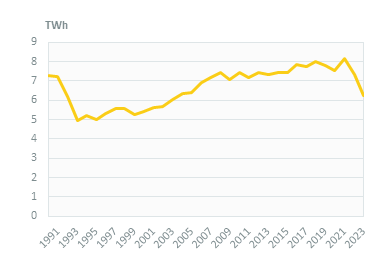 Graph: ELECTRICITY CONSUMPTION BREAKDOWN BY SECTOR (2019,%)
Renewable in % Electricity Production
The EU Directive on renewables sets a target of 25% renewables in final consumption in 2020 (10% in transport and 4.8% in electricity consumption).
Renewable targets set in the energy development plan for 2030 (2017) - 28% in primary energy consumption, 50% in final energy consumption, and 80% of heat production in 2030 - have been updated in the NECP. The NECP sets a target of at least 42% of renewable energy in total final consumption by 2030, including 4.3 TWh of renewable electricity (up from 1.8 TWh in 2018), 11 TWh of renewable heat, and 0.7 TWh for transport.
Interactive Chart Estonia Share of Renewables in Electricity Production (incl hydro)
CO2 Fuel Combustion/CO2 Emissions
According to the Protocol, Estonia's Kyoto objective was easily reached as in 2012 GHG emissions were 50% below their 1990 level (reduction target of 8%). Most of the reduction in CO2-energy emissions occurred between 1990 and 1993 (-47%); since then, the emission level has been fluctuating around 20 Mt and after 2018 decreased to below 15 Mt, reaching 13 Mt in 2019.
Graph: CO2-ENERGY EMISSIONS (MtCO2)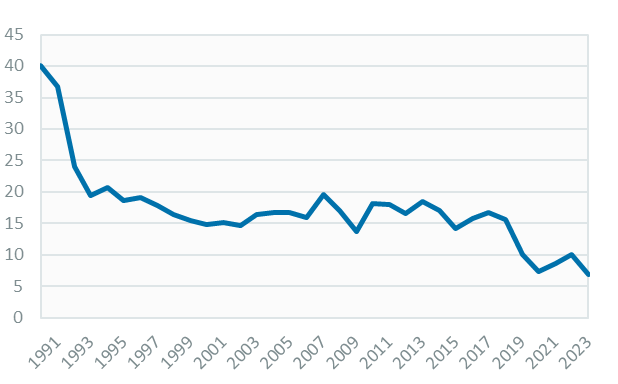 Shopping cart
Your shopping cart is empty.
Secured payment by