Chad Energy Information
Population: 15.4 million
GDP growth rate: 2.30 %/year
Energy independence: 100%

Data of the last year available: 2018
Total consumption/GDP:* 125 (2015=100)
CO2 Emissions: 0.06 tCO2/capita
Rate of T&D power losses: 12.2%

* at purchasing power parity
View all news, archive your new and create your own daily newsletters only on your topics/countries of interest with Key Energy Intelligence
Total Energy Consumption
The energy consumption per capita is around 0.15 toe and 13 kWh for electricity (2018).
Total energy consumption is increasing regularly, but at a slow pace (+2.1%/year since 2000).
Traditional energies account for a large part of the energy consumed (81% in 2018). Oil represents 19% of the country's total energy consumption.
Graph: CONSUMPTION TRENDS BY ENERGY SOURCE (Mtoe)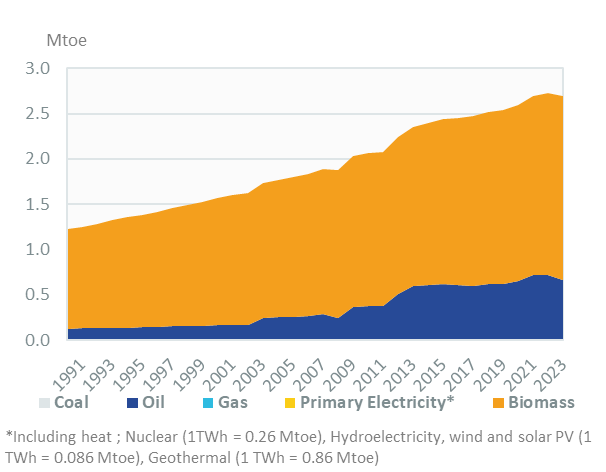 Graph: TOTAL CONSUMPTION MARKET SHARE BY ENERGY (2018, %)
Interactive Chart Chad Total Energy Consumption
Crude Oil Production
Oil production has been decreasing slightly since 2015 to 5 Mt in 2018. It had previously fallen by a factor of nearly 2 between 2005 (8.7 Mt) and 2014 (4.4 Mt). That decrease was due to technical difficulties and upwelling which led to the cessation of production on several fields. Production started in 2003.
Interactive Chart Chad Crude Oil Production
CO2 Fuel Combustion/CO2 Emissions
Chad submitted its first NDC in 2015, with the objective of a 71% reduction in GHG emissions compared to a BAU scenario. This objective is conditional to financial assistance and corresponds roughly to maintaining the 2010 level of emissions (8.4 MtCO2e), mainly linked to agriculture.
CO2 emissions from fuel combustion seem stabilized at around 0.9 MtCO2, despite strong growth between 2008 and 2011 (+8%/year).
Graph: CO2-ENERGY EMISSIONS (MTCO2)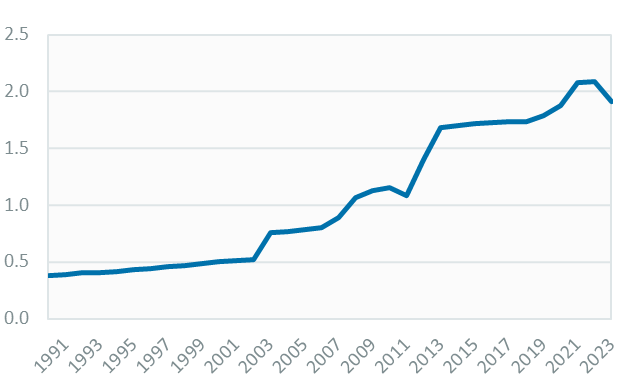 Shopping cart
Your shopping cart is empty.
Secured payment by