Brazil Energy Information
Population: 214 million
GDP growth rate: 4.62 %/year
Energy independence: 100%

Data of the last year available: 2021
Total consumption/GDP:* 106 (2005=100)
CO2 Emissions: 2.10 tCO2/capita
Rate of T&D power losses: 14.7%

* at purchasing power parity
View all news, archive your new and create your own daily newsletters only on your topics/countries of interest with Key Energy Intelligence
Total Energy Consumption
With a per capita consumption of 1.4 toe (2021), Brazil is within the average range for semi-industrialised countries but well below the European average of 3 toe.
Total energy consumption rebounded by 7% in 2021 to 308 Mtoe after a 2% reduction in 2020. It remained roughly stable between 2016 and 2019, and increased at a fairly rapid pace between 2000 and 2014 (3.5%/year).
Interactive Chart Brazil Total Energy Consumption
Crude Oil Production
The country's oil production grew at the rapid pace of 5.5%/year between 2013 and 2020, and decreased in 2021 (-1%) to 152 Mt. On average, 60% of production comes from the pre-salt.
The country is a net exporter of crude oil (net exports of 57 Mt in 2021); crude oil exports increased by around 20%/year between 2013 and 2020, reaching 70 Mt in 2020. They decreased by 2.5% in 2021.
Interactive Chart Brazil Crude Oil Production
Oil Products Consumption
Oil product consumption decreased rapidly between 2014 and 2020 (-4%/year) and rebounded in 2021 to 104 Mt (+7.5%). It increased strongly between 2003 and 2014 (+3%/year, on average).
Graph: OIL CONSUMPTION (Mt)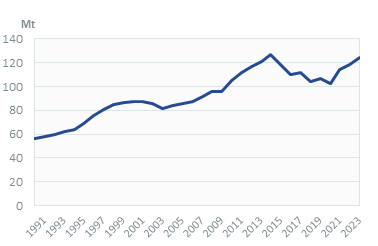 The transport sector is the main oil consumer (59% of consumption), followed by industry (11%), the residential-tertiary sector (13%), non-energy uses (11%), power plants (4%), and the hydrocarbon industry (2%).
Interactive Chart Brazil Refined Oil Products Production
Natural Gas Consumption
Gas demand rebounded sharply in 2021 to 42 bcm (+23%). It decreased by 22% to 35 bcm between 2014 and 2020. It rose at the strong pace of 12%/year between 1999 and 2014, mainly due to the power sector and, to a lesser extent, industry.
Graph: NATURAL GAS CONSUMPTION (bcm)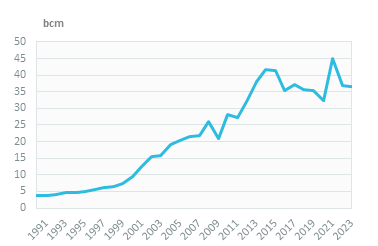 Industry accounts for 28% of the demand and power plants for 37%.
Graph: GAS CONSUMPTION BREAKDOWN BY SECTOR (2021, %)
Interactive Chart Brazil Natural Gas Domestic Consumption
Coal Consumption
Coal consumption rebounded in 2021 (+24%) reaching 29 Mt, close to its peak in 2015, after a 5%/year decrease from 2015 to 2020.
Graph: COAL CONSUMPTION (Mt)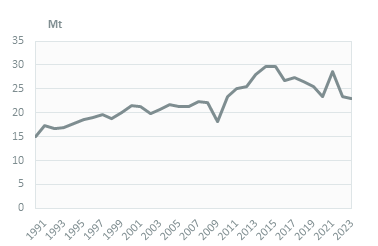 Industry accounts for 57% of demand, while the remainder is used to produce electricity.
Graph: COAL CONSUMPTION BREAKDOWN BY SECTOR (2021, %)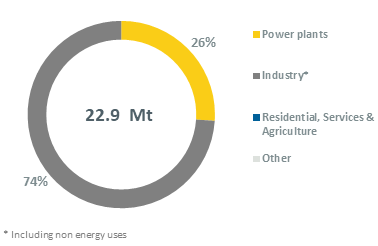 Interactive Chart Brazil Coal and Lignite Domestic Consumption
Power Consumption
Electricity consumption rebounded in 2021 by 8.6% to 579 TWh after a slight reduction in 2020 (-1%). It increased by 1%/year between 2014 and 2019. Previously, it increased rapidly between 2001 and 2014 (around 4%/year). Almost all households are electrified.
Graph: ELECTRICITY CONSUMPTION (TWh)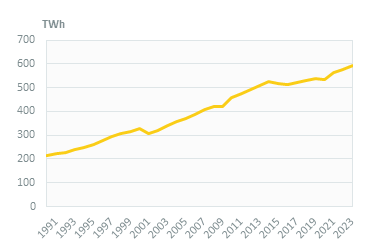 Sectoral shares have remained roughly stable over the last decade. Industry absorbs 37% of the consumption (26% for residential sector and 23% for services).
Renewable in % Electricity Production
The 10-Year Energy Expansion Plan 2031 (Plano Decenal de Expansão de Energia 2031, PDE 2031) forecasts a 48% share of renewables in the energy mix in 2031.
Since 2009, new contracts for wind, biomass and small hydro plant projects are awarded through competitive bidding. Under certain conditions, renewable power plants can benefit from feed-in tariffs (FITs).
Interactive Chart Brazil Share of Renewables in Electricity Production (incl hydro)
CO2 Fuel Combustion/CO2 Emissions
GHG emissions reached 2.16 GtCO2eq in 2020 with land use being responsible for 46% of the total, followed by farming activities (and animal production) at 27%, the energy sector (18%), industrial processes (5%), and waste (4%). Total GHG emissions increased by 3%/year from 2010 to 2016; they dropped by 8% in 2017 driven by land use (-20%) and have increased since then.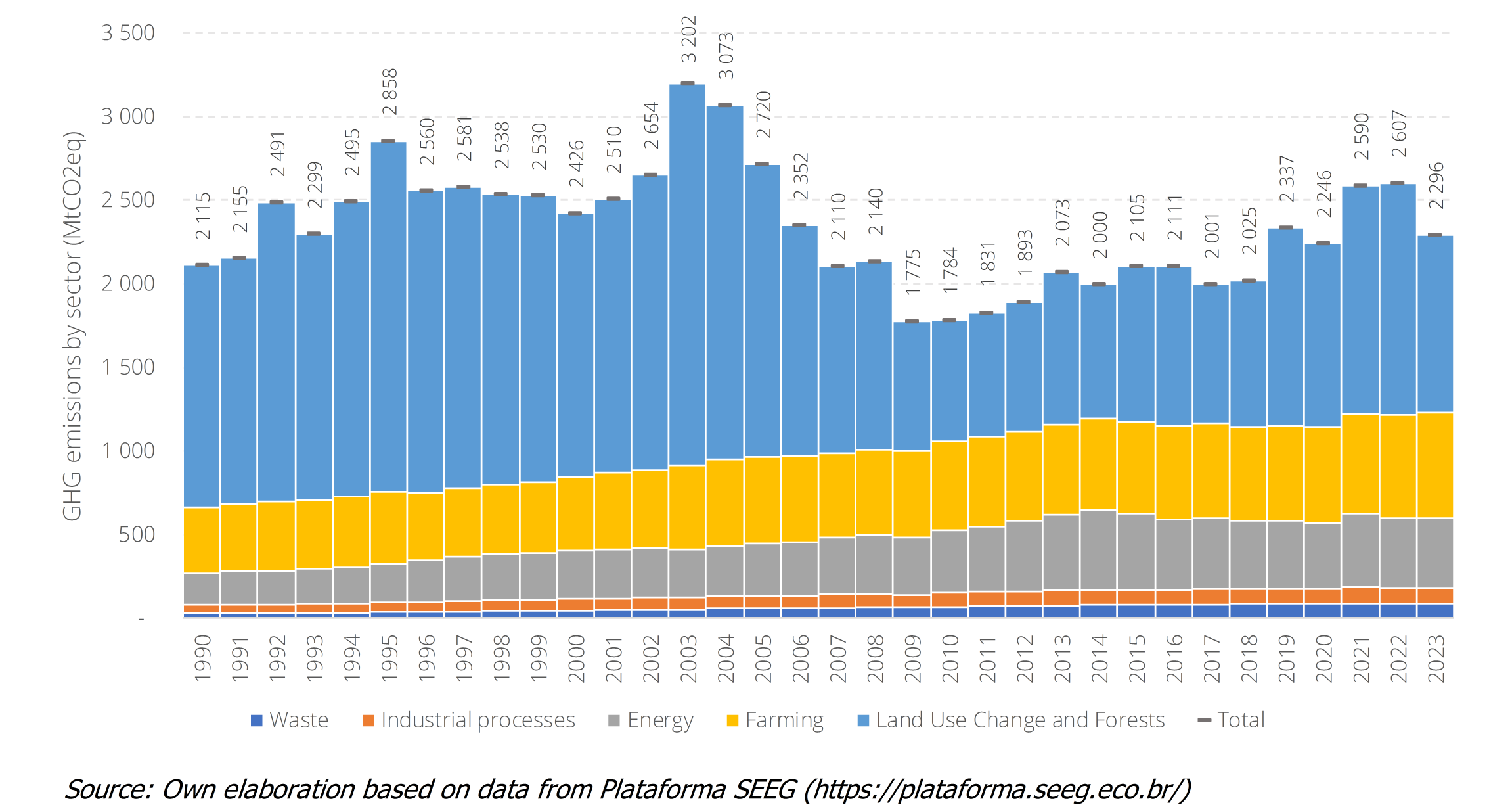 Emissions from the energy sector have been decreasing since 2014 (-10%) and had previously doubled between 1990 and 2014.
Shopping cart
Your shopping cart is empty.
Secured payment by