United States Energy Information
United States Key Figures
Population: 331 million
GDP growth rate: 6.50 %/year
Energy independence: 100%

Data of the last year available: 2021
Total consumption/GDP:* 69.6 (2005=100)
CO2 Emissions: 14.0 tCO2/capita
Rate of T&D power losses: 7.89%

* at purchasing power parity
United States Related News
View all news, archive your new and create your own daily newsletters only on your topics/countries of interest with Key Energy Intelligence
United States Related Research
Total Energy Consumption
Per capita consumption was around 6.4 toe/cap (including 11.7 MWh/cap of electricity) in 2021, which is more than 60% higher than the OECD average.
The country's total consumption remained relatively stable between 2010 and 2019: after a 9% dip by in 2020, it bounced back by 5% in 2021 to 2.1  Gtoe, i.e. 4% below its 2019 level. The United States is the 2nd largest energy consumer in the world, since it was overtaken by China in 2009.
Interactive Chart United States Total Energy Consumption
Crude Oil Production
Oil production (crude and NGL) increased by an average of 10%/year between 2011 and 2019 before dropping by 8% in 2020. In 2021, production increased by only 1%, reaching 694 Mt. Non-conventional sources currently account for around 50% of total oil production. In 2020, the United States was the largest oil producer in the world. Oil production is concentrated in onshore Texas, around the Gulf of Mexico, North Dakota, California, and Alaska.
Interactive Chart United States Crude Oil Production
Oil Products Consumption
Oil consumption increased moderately between 2012 and 2019 (1%/year), but dropped significantly in 2020 (-15%) to 667 Mt, mainly as a result of the COVID-19 pandemic. It recovered partially in 2021 (+7.5%) to stand at 717 Mt (significantly below its 2004 peak of 880 Mt).
Graph: OIL CONSUMPTION (Mt)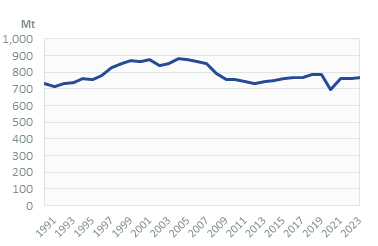 Interactive Chart United States Refined Oil Products Production
Natural Gas Consumption
Gas consumption increased at an average rate of 3%/year between 2006 and 2019. It has decreased marginally since then, by 2.5% in total, to reach 872 bcm. The upward trend in natural gas is largely due to fuel switching from coal, especially in power generation.
Graph: NATURAL GAS CONSUMPTION (bcm)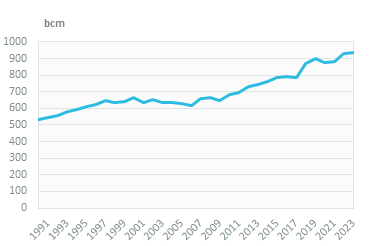 Electricity generation (39%) and buildings (residential-service sectors) (26%) are the main consuming sectors, followed by industry (22%, excluding non-energy uses).
Interactive Chart United States Natural Gas Domestic Consumption
Coal Consumption
Coal and lignite consumption has been declining sharply since 2008, dropping by almost 60% until 2020 before a 15% rebound in 2021, when it reached 497 Mt.
Graph: COAL CONSUMPTION (Mt)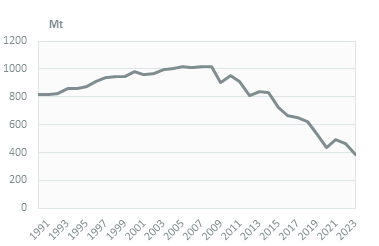 The power sector accounts for most of the coal and lignite consumption (92%); the rest of the energy sector and industry consume the remainder.
Graph: COAL CONSUMPTION BREAKDOWN BY SECTOR (2021, %)
Interactive Chart United States Coal and Lignite Domestic Consumption
Power Consumption
Electricity consumption has been relatively stable since 2010 (0.6%/year). It increased by 2% in 2021, reaching 3 870 TWh following a 4% decline in 2020.
Graph: ELECTRICITY CONSUMPTION (TWh)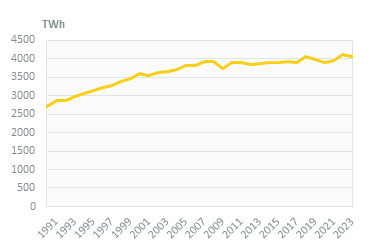 The main consuming sectors are the services and residential sectors (77%), followed by industry (20%).
Graph: ELECTRICITY CONSUMPTION BREAKDOWN BY SECTOR (2021, %)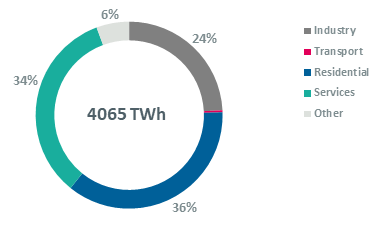 Renewable in % Electricity Production
The objective of a 20% share of renewables in the power mix in 2020 was reached and no further objectives were formulated on a federal level. In March 2021, the US House Committee on Energy and Commerce proposed its Climate Leadership and Environmental Action for our Nation's (CLEAN) Future Act, which would involve 100% clean electricity sources by 2035.
Interactive Chart United States Share of Renewables in Electricity Production (incl hydro)
CO2 Fuel Combustion/CO2 Emissions
In April 2021, the US administration has pledged to reduce the country's GHG emissions by 50-52% below 2005 levels by 2030. This target was also included in the country's new NDC and doubles that set forth in the first NDC (-26-28% below 2005 levels). In 2016, the US (representing around 18% of global GHG emissions) formally ratified the Paris agreement on climate change. The Trump administration withdrew from the Agreement in November 2020, but President Biden recommitted to the Agreement in January 2021.
Shopping cart
Your shopping cart is empty.
Secured payment by