United Kingdom Energy Information
United Kingdom Key Figures
Population: 66.9 million
GDP growth rate: 1.50 %/year
Energy independence: 71.2%

Data of the last year available: 2019
Total consumption/GDP:* 63.2 (2015=100)
CO2 Emissions: 5.15 tCO2/capita
Rate of T&D power losses: 8.02%

* at purchasing power parity
United Kingdom Related News
View all news, archive your new and create your own daily newsletters only on your topics/countries of interest with Key Energy Intelligence
United Kingdom Related Research
Total Energy Consumption
Consumption per capita has shrunk by almost a third since 2000, bringing it to 2.5 toe in 2019. Electricity consumption per capita dropped by more than 20%, from 5 800 kWh in 2000 to 4 500 kWh in 2019.
Total energy consumption has been decreasing by almost 2%/year since 2006 to 170 Mtoe in 2019.
Graph: CONSUMPTION TRENDS BY ENERGY SOURCE (Mtoe)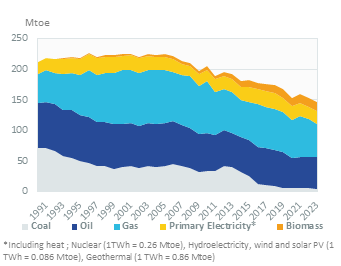 Interactive Chart United Kingdom Total Energy Consumption
Crude Oil Production
Since 2014, crude oil production has rebounded by 30% to 52 Mt in 2019 (+30%). Between 1999 and 2014, it decreased by 70%, from 137 Mt to 40 Mt.
The UK became a net crude oil importer in 2005 and imported a net amount of 7.3 Mt in 2019, down from 29.5 Mt in 2012. Most crude oil imports come from Norway (37%) and the United States (22%)
The country's refining capacity has fallen from 1.8 mb/d in 2011 to 1.3 mb/d at end-2019 across 6 facilities.
Interactive Chart United Kingdom Crude Oil Production
Oil Products Consumption
Oil consumption declined by 2%/year between 2017 and 2019, after a 5% increase between 2013 and 2017, led by the transport and petrochemical sectors. Over 2005-2013, oil consumption decreased by around 3%/year.
Graph: OIL CONSUMPTION (Mt)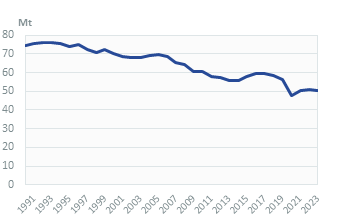 In 2019, transport accounted for 67% of oil consumption (69% in 2000) and industry for 15% (including non-energy uses, 28% in 2000).
Graph: PETROLEUM PRODUCTS CONSUMPTION BREAKDOWN BY SECTOR (2019, %)
Interactive Chart United Kingdom Refined Oil Products Production
Natural Gas Consumption
Natural gas consumption has remained relatively stable since 2016 at 80 bcm, following a 14% increase between 2014 and 2016. Over 2004-2014, natural gas consumption declined by 30%.
Graph: NATURAL GAS CONSUMPTION (bcm)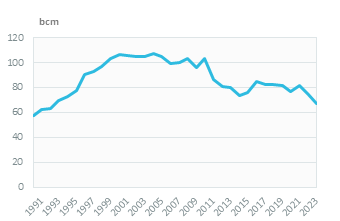 The residential-services sector is the main consumer, with 46% of the total in 2019 (43% in 2011), due to the large reliance on gas for space heating. The electricity sector ranks second (31%), followed by industry (10% including non-energy uses, 18% in 2000).
Interactive Chart United Kingdom Natural Gas Domestic Consumption
Coal Consumption
Coal consumption dropped by more than 85% between 2012 and 2019 to 8.6 Mt because of the closure of numerous coal-fired power plants.
Graph: COAL CONSUMPTION (Mt)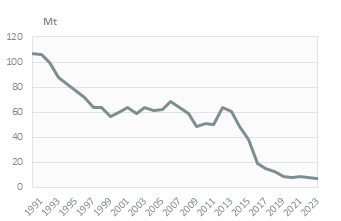 The power sector accounted for 35% of coal consumption in 2019, down from 88% in 2012.
Graph: COAL CONSUMPTION BREAKDOWN BY SECTOR (2019, %)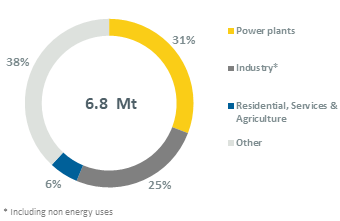 Interactive Chart United Kingdom Coal and Lignite Domestic Consumption
Power Consumption
Electricity consumption has remained quite stable since 2014 (302 TWh in 2019). It fell by 1.3%/year between its peak of 357 TWh in 2005 and 2014.
Graph: ELECTRICITY CONSUMPTION (TWh)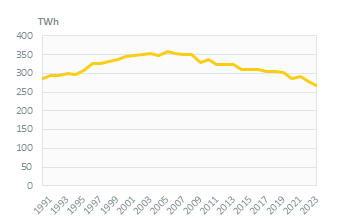 The electricity consumption split between sectors is quite stable: households are the main electricity consumers (34%) followed by services (30%) and industry (30%).
Graph: ELECTRICITY CONSUMPTION BREAKDOWN BY SECTOR (2019, %)
Renewable in % Electricity Production
In August 2020, the National Infrastructure Commission (NIC) updated its target for deployment of renewables as part of a low-cost low carbon electricity system, from 50% to 65% of the power mix by 2030 (40% in 2019).
In 2011, Scotland raised its renewable electricity target for power consumption to 100% by 2020 (90% in 2019). Its previous 50% target was met in 2015.
The target of 20 GW of solar in 2020 set in the Solar Strategy of 2014 will not be reached (13 GW end of 2019).
Interactive Chart United Kingdom Share of Renewables in Electricity Production (incl hydro)
CO2 Fuel Combustion/CO2 Emissions
GHG emissions have been decreasing rapidly since 1990 and were in 2019 45% below their 1990 level according to provisional figures. In 2019, GHG emissions declined by 3.6% to 435 MtCO2eq. due to the decrease in emissions from the power sector (-13% in 2019 to 90 MtCO2), which shifted away from coal and towards renewables.
In December 2020, the UK updated its NDC. The country aims to reduce its GHG emissions by 68% by 2030, compared to 1990 levels; the previous NDC target was 53%.
Shopping cart
Your shopping cart is empty.
Secured payment by