Ukraine Energy Information
Population: 44.3 million
GDP growth rate: -7.2 %/year
Energy independence: 66.3%

Data of the last year available: 2020
Total consumption/GDP:* 63.2 (2005=100)
CO2 Emissions: 3.83 tCO2/capita
Rate of T&D power losses: 9.20%

* at purchasing power parity
View all news, archive your new and create your own daily newsletters only on your topics/countries of interest with Key Energy Intelligence
Total Energy Consumption
Ukraine's total energy consumption per capita has fallen from 4.9 toe in 1990 to 2.9 toe in 2010 and 2 toe in 2020, which is lower than the average for the EU (-34%) and Russia (-61%). Electricity consumption per capacity is around 2 600 kWh, which is lower than the average for the EU (-53%) and Russia (-59%). It dropped from its peak level of 4 400 kWh in 1990.
Graph: CONSUMPTION TRENDS BY ENERGY SOURCE (Mtoe)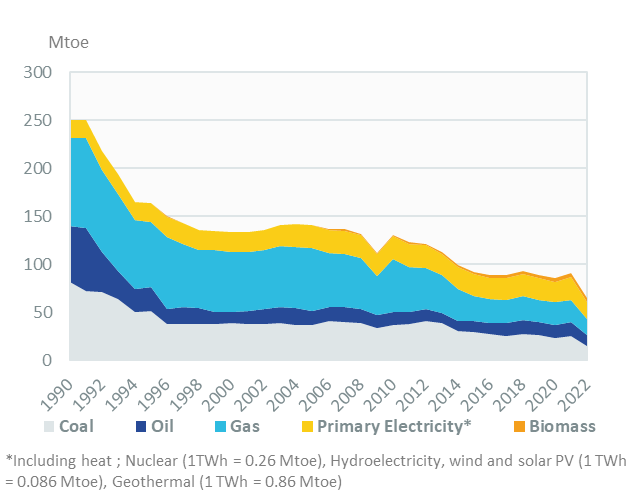 Interactive Chart Ukraine Total Energy Consumption
Crude Oil Production
Ukraine produced 2.6 Mt of crude oil in 2020, covering around three quarters of its needs.
Ukraine has a nameplate refining capacity of around 370 kb/d (18.6 Mt/year). However, the rate of utilisation of this capacity is low and only 1.2 Mt of petroleum products were produced in 2020 (-8% compared to 2019).
Interactive Chart Ukraine Crude Oil Production
Oil Products Consumption
In 2020, oil consumption declined by 2.6% to 12.7 Mt. Previously, oil consumption increased by 6.9%/year between 2015 and 2019. It fell by 4.5%/year between 2004 and 2015.
Graph: OIL CONSUMPTION (Mt)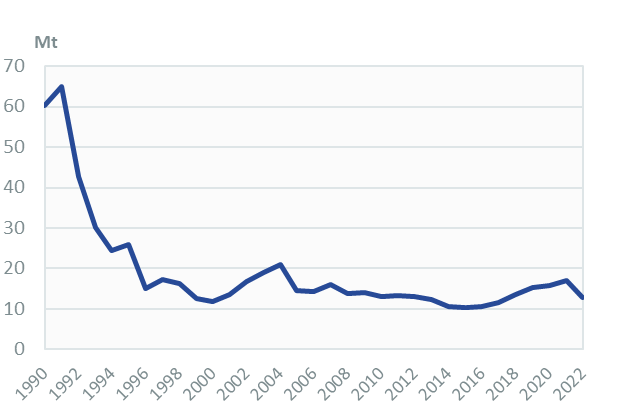 The share of transport in oil consumption decreased from 69% in 2013 to nearly 59% in 2019. The share of the hydrocarbon industry increased from 3% in 2008 to 19% in 2020. The share of the residential sector is stable at around 11% since 1990.
Interactive Chart Ukraine Refined Oil Products Production
Natural Gas Consumption
Natural gas consumption increased by 5% in 2020 to 29 bcm. Previously, it declined by 7%/year (-65%) between 2004 and 2019.
Graph: NATURAL GAS CONSUMPTION (bcm)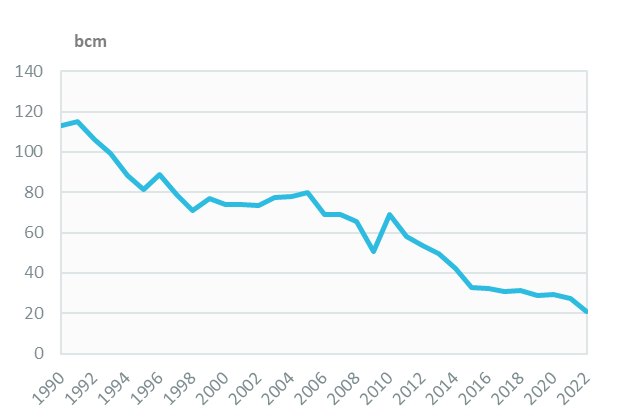 The residential and services sector is the main gas consumer since 2009 with a share of 36% (up from 22% in 2000), while that of district heating ("others") has shrunk from 46% in 2000 to 30% in 2020. The share of industry was 18% in 2020, followed by power plants (16%).
Interactive Chart Ukraine Natural Gas Domestic Consumption
Coal Consumption
Since 2012, coal consumption has declined by 6.3%/year (-41%) to 42 Mt in 2020, mainly due to the civil war that has disrupted coal supply.
Graph: COAL CONSUMPTION (Mt)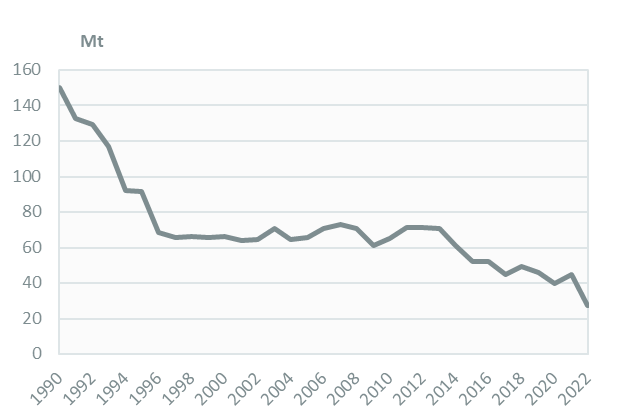 Coal is mainly used in power plants (55%, up from 43% in 2000) and industry (31%, stable).
Graph: COAL CONSUMPTION BREAKDOWN BY SECTOR (2020, %)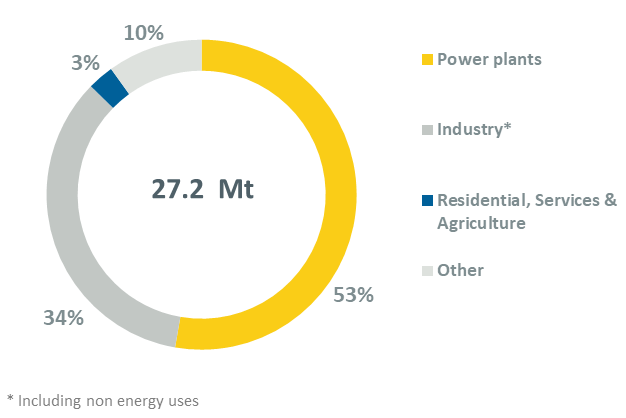 Interactive Chart Ukraine Coal and Lignite Domestic Consumption
Power Consumption
Since 2012, electricity consumption has decreased on average by 2.8%/year (-22%) to 116 TWh in 2020. This trend is mainly due to the low economic activity and the sharp electricity price hikes. Previously, electricity consumption increased by an average of 2.4%/year between 2002 and 2011.
Graph: ELECTRICITY CONSUMPTION (TWh)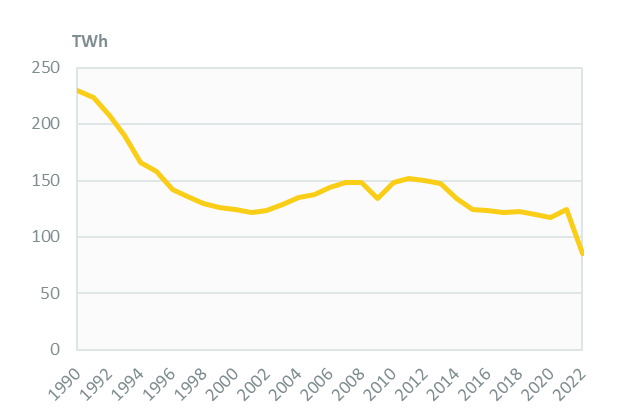 Renewable in % Electricity Production
SAEE is also in charge of implementing the policy on renewables and alternative fuels.
Ukraine approved its National Renewable Energy Action Plan (NREAP) in 2014. The NREAP aimed for renewables to account for 11% of final energy consumption by 2020 (from 3.8% in 2009), including an 11% share for electricity, 12.4% for heating, and 10% for transport. These targets were likely missed in 2020, since renewables only accounted for 8.1% of final energy consumption in 2019 (including 10.9% for electricity, 9% for heating, and 3.1% for transport).
Interactive Chart Ukraine Share of Renewables in Electricity Production (incl hydro)
CO2 Fuel Combustion/CO2 Emissions
In 2019, Ukraine's GHG emissions (including LULUCF) were 62% lower than 1990 levels.
In August 2021, Ukraine updated its First Nationally Determined Contribution (NDC), committing to cut its GHG emissions by 65% by 2030 compared to 1990 levels (including LULUCF) and to reach carbon neutrality by 2060. In 2016, in the previous version of its NDC, the country pledged to limit its GHG emissions to 60% of 1990 levels.
Shopping cart
Your shopping cart is empty.
Secured payment by