Turkmenistan Energy Information
Population: 5.86 million
GDP growth rate: 6.15 %/year
Energy independence: 100%

Data of the last year available: 2018
Total consumption/GDP:* 43.0 (2015=100)
CO2 Emissions: 11.5 tCO2/capita
Rate of T&D power losses: 16.4%

* at purchasing power parity
Turkmenistan Related News
View all news, archive your new and create your own daily newsletters only on your topics/countries of interest with Key Energy Intelligence
Turkmenistan Related Research
Total Energy Consumption
Per capita consumption is 4.6 toe, with electricity accounting for around 2 700 kWh in 2018.
Total energy consumption increased rapidly from 2000 to 2015 (4.2%/year, on average) and has remained stable since then (27 Mtoe in 2018). Natural gas represents 75% of that consumption and oil 25%.
Graph: CONSUMPTION TRENDS BY ENERGY SOURCE (Mtoe)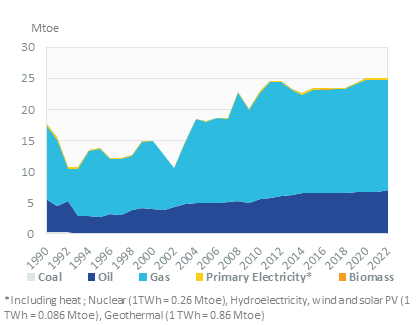 Graph: TOTAL CONSUMPTION MARKET SHARE BY ENERGY (2018, %)
Interactive Chart Turkmenistan Total Energy Consumption
Crude Oil Production
The country's oil production is low (11 Mt in 2018) and increased only slightly over the last decade.
The country has a refining capacity of 297 000 bbl/d, distributed over 3 refineries (Chardzhou, 120 500 bbl/d, Türkmenbaşy/Krasnovodsk, 116 500 bbl/d, and Okarem, 60 000 bbl/d, commissioned in 2018).
The country is a net exporter of oil products. Oil exports decreased sharply after 2015 from 6 Mt to 3.5 Mt in 2018. They increased rapidly between 2010 and 2015, by 8.4%/year.
Turkmenistan started shipping oil through the Baku-Tbilisi-Ceyhan pipeline.
Interactive Chart Turkmenistan Crude Oil Production
CO2 Fuel Combustion/CO2 Emissions
In 2016, the country submitted its NDC, but no concrete objective has been proposed.
CO2 emissions from energy combustion have doubled since 2000 to 70 MtCO2.
Graph: CO2-ENERGY EMISSIONS (MtCO2)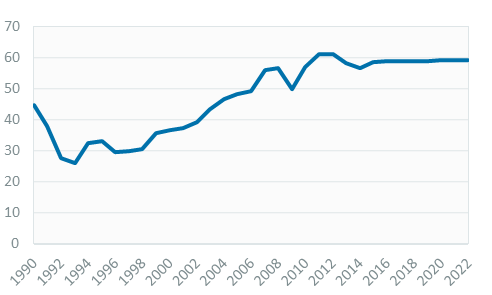 Shopping cart
Your shopping cart is empty.
Secured payment by