Tanzania Energy Information
Population: 58.0 million
GDP growth rate: 6.97 %/year
Energy independence: 87.6%

Data of the last year available: 2019
Total consumption/GDP:* 59.4 (2005=100)
CO2 Emissions: 0.20 tCO2/capita
Rate of T&D power losses: 16.7%

* at purchasing power parity
View all news, archive your new and create your own daily newsletters only on your topics/countries of interest with Key Energy Intelligence
Tanzania Related Research
Total Energy Consumption
The total per capita energy consumption is around 0.37 toe (2019), 34% lower than the Sub-Saharan Africa's average. The per capita electricity consumption was 120 kWh in 2019 (almost 70% lower than the Sub-Saharan Africa's average).
Total energy consumption has been increasing steadily since 2010 (+2.6%/year), reaching 22 Mtoe in 2019.
Graph: CONSUMPTION TRENDS BY ENERGY SOURCE (Mtoe)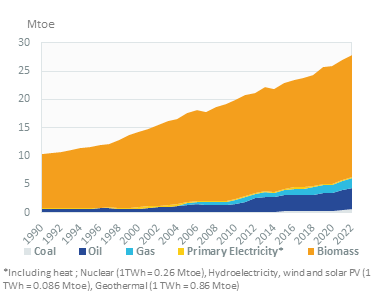 Graph: TOTAL CONSUMPTION MARKET SHARE BY ENERGY (2019, %)
Interactive Chart Tanzania Total Energy Consumption
Crude Oil Production
The country does not produce oil.
In 2016, the Kamal Group started operations of a heavy oil refinery in Bagamoyo. The facility produces approximately 27 kt/year of oil products and 10 kt/year of lubricant.
The Tanzania and Italian Petroleum Refinery (~15 kb/d), located in Kigamboni (Dar es Salaam), was shut down in 1999.
Interactive Chart Tanzania Crude Oil Production
Renewable in % Electricity Production
Under the framework of the 2010 SE4ALL AA, Tanzania intends to double the share of renewables in its energy mix by 2030. Tanzania was selected by the Scaling-Up Renewable Energy Programme (SREP), part of the Climate Investment Funds (CIF).
The PSMP 2020 Update forecasts a slight increase in the share of renewables in the power capacity mix in 2044, from 37% in 2019 to 41% in 2044.
Interactive Chart Tanzania Share of Renewables in Electricity Production (incl hydro)
CO2 Fuel Combustion/CO2 Emissions
Tanzania's first NDC set a GHG emissions reduction target of 10-20% by 2030, compared to a BAU scenario. The actual target will depend on international support in the form of finance, investment, technology development and transfer, and capacity building. The emissions reduction programme will also be reviewed once again after the first Biennal Update Report (BUR).
CO2 emissions from energy combustion have doubled since 2010, and reached 12 MtCO2 in 2019.
Graph: CO2-ENERGY EMISSIONS (MtCO2)
Shopping cart
Your shopping cart is empty.
Secured payment by