Tanzania Energy Information
Population: 59.8 million
GDP growth rate: 1.90 %/year
Energy independence: 89.5%

Data of the last year available: 2020
Total consumption/GDP:* 54.5 (2005=100)
CO2 Emissions: 0.17 tCO2/capita
Rate of T&D power losses: 12.2%

* at purchasing power parity
View all news, archive your new and create your own daily newsletters only on your topics/countries of interest with Key Energy Intelligence
Tanzania Related Research
Total Energy Consumption
The total per capita energy consumption is around 0.4 toe (2020), more than a third lower than the average for Sub-Saharan Africa. The per capita electricity consumption was 110 kWh in 2020 (almost 70% lower than the average for Sub-Saharan Africa).
Total energy consumption declined by 1.5% in 2020, after a 1.3%/year increase between 2013 and 2019.
Graph: CONSUMPTION TRENDS BY ENERGY SOURCE (Mtoe)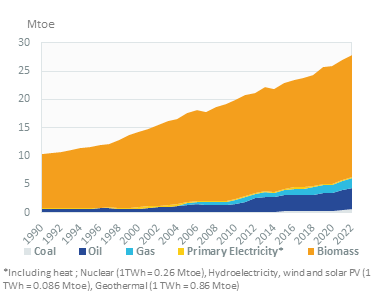 Graph: TOTAL CONSUMPTION MARKET SHARE BY ENERGY (2020, %)
Interactive Chart Tanzania Total Energy Consumption
Crude Oil Production
Tanzania, which does not produce oil, imports its entire consumption of refined products. After a very rapid increase between 2009 and 2014 (16%/year), imports of oil products declined by 1%/year between 2015 and 2020 (including -6% in 2020).
Interactive Chart Tanzania Crude Oil Production
Renewable in % Electricity Production
Under the framework of the 2010 SE4ALL AA, the country intends to double the share of renewables in its energy mix by 2030. Tanzania was selected by the Scaling-Up Renewable Energy Programme (SREP), part of the Climate Investment Funds (CIF).
The PSMP 2020 Update forecasts a slight increase in the share of renewables in the power capacity mix in 2044, from 37% in 2019 to 41% in 2044.
Interactive Chart Tanzania Share of Renewables in Electricity Production (incl hydro)
CO2 Fuel Combustion/CO2 Emissions
In its updated NDC (August 2021), the country plans to cut its GHG emissions by 30-35% by 2030 compared to a BAU scenario. Previously, in May 2018, Tanzania pledged to cut reduce its GHG emissions by between 10-20% by 2030 relative to a BAU scenario.
CO2 emissions from energy combustion doubled between 2009 and 2012 and have progressed slower since then (2%/year), reaching 10.4 MtCO2 in 2020.
Graph: CO2-ENERGY EMISSIONS (MtCO2)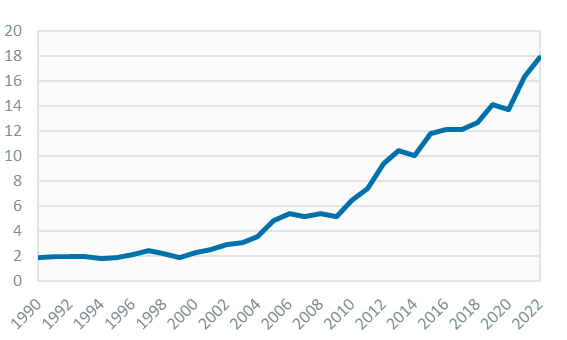 Shopping cart
Your shopping cart is empty.
Secured payment by