Switzerland Energy Information
2018 Switzerland Key Figures
Population: 8.54 million
GDP growth rate: 2.53 %/year
Energy independence: 52.1%

* at purchasing power parity
Total consumption/GDP:* 72.2 (2015=100)
CO2 Emissions: 4.23 tCO2/capita
Rate of T&D power losses: 7.24%

Switzerland Related Research
Total Energy Consumption
Total energy consumption per capita is 2.8 toe, i.e. 11% below the European average, including 6 750 kWh/cap (20% higher than the European average) (2018).
After dropping by 4%/year between 2013 and 2016, the total consumption increased slightly in 2017 and 2018 (1%/year) to 24 Mtoe in 2018.
In PPP terms, Switzerland has the lowest energy intensity in Europe (behind Ireland and Malta) (2018).
Graph: CONSUMPTION TRENDS BY ENERGY SOURCE (Mtoe)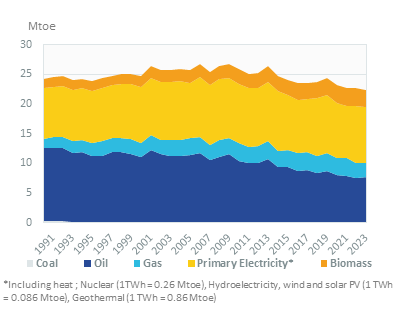 Interactive Chart Switzerland Total Energy Consumption
Crude Oil Production
Of total oil imports, 70% are made directly in the form of refined products and 30% in the form of crude oil, which is processed in the Cressier refinery. Since the shutdown of the Collombey refinery in 2015, the share of petroleum products in total oil imports has increased (from 56% in 2014). In 2018, Switzerland imported 3.1 Mt of crude oil (+7%) and 6.9 Mt of refined products (+10%).
Interactive Chart Switzerland Crude Oil Production
Oil Products Consumption
Oil product consumption has been shrinking by 3.6%/year, on average, since 2013, including a 1.9% drop in 2018. The transport sector accounts for 59% of oil products consumption, followed by buildings (29%).
Graph: OIL CONSUMPTION (MT)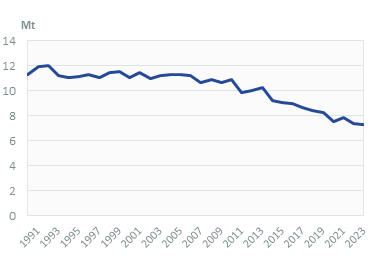 Graph: OIL CONSUMPTION BREAKDOWN BY SECTOR (2018, %)
Interactive Chart Switzerland Refined Oil Products Production
Natural Gas Consumption
Gas consumption is deeply influenced by weather conditions since around two thirds of the consumption are used for heating purposes. It has fluctuated around 3.6 bcm since 2010.
Graph: NATURAL GAS CONSUMPTION (bcm)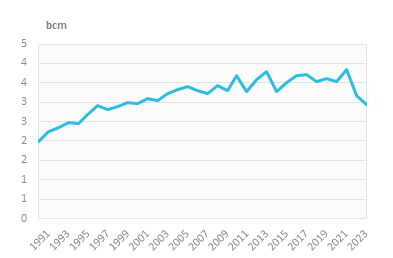 Buildings represent 59% of the gas consumption (2018), and industry 32%.
Graph: GAS CONSUMPTION BREAKDOWN BY SECTOR (2018, %)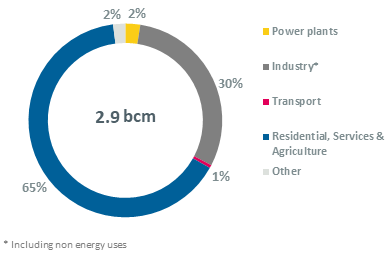 Interactive Chart Switzerland Natural Gas Domestic Consumption
Coal Consumption
Coal consumption is very low (0.2 Mt). It is almost entirely consumed in industry.
Graph: COAL CONSUMPTION (Mt)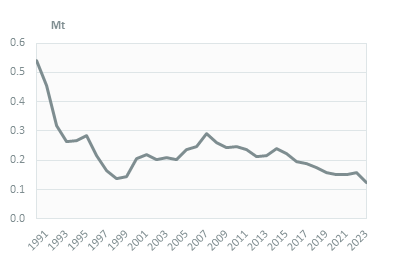 Graph: COAL CONSUMPTION BREAKDOWN BY SECTOR (2018, %)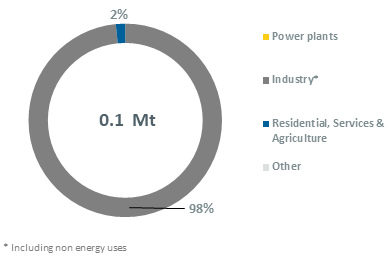 Interactive Chart Switzerland Coal and Lignite Domestic Consumption
Power Consumption
Electricity consumption has been quite stable since 2010, at around 58 TWh; it rose by an average of 1.3%/year between 2000 and 2010, driven by consumption in buildings.
Graph: ELECTRICITY CONSUMPTION (TWh)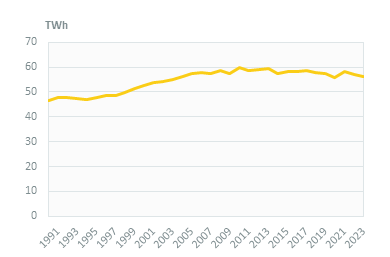 The residential sector is the largest electricity consumer (33%); it is followed by industry and services (30% each) (2018); the share of industry has shrunk slightly to the benefit of the residential sector.
CO2 Fuel Combustion/CO2 Emissions
Total GHG emissions decreased by 1.2% per year on average over 2005-2017, bringing them to 12% below their 1990 levels, which is well below the Kyoto target of an 8% reduction, according to OFEV. Transport was responsible for 32% of total GHG emissions in 2017 (28% in 1990), buildings for 27% (32% in 1990), industry for 20% (22% in 1990), agriculture for 14%, and wastes for 7%.
Shopping cart
Your shopping cart is empty.
Secured payment by