Portugal Energy Information
Population: 10.2 million
GDP growth rate: -7.6 %/year
Energy independence: 30.7%

Data of the last year available: 2020
Total consumption/GDP:* 75.0 (2005=100)
CO2 Emissions: 3.80 tCO2/capita
Rate of T&D power losses: 10.3%

* at purchasing power parity
View all news, archive your new and create your own daily newsletters only on your topics/countries of interest with Key Energy Intelligence
Portugal Related Research
Total Energy Consumption
Consumption per capita is 31% lower than the EU average at 2 toe, 4 500 kWh of which is electricity (15% below the EU average) (2020).
Graph: CONSUMPTION TRENDS BY ENERGY SOURCE (Mtoe)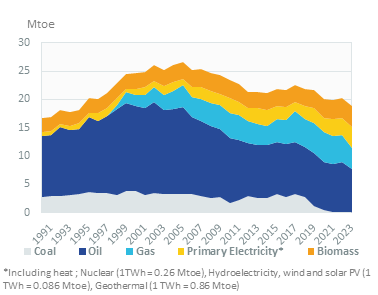 Total energy consumption has been decreasing by 4.2%/year since 2017 to 21.8 Mtoe in 2020, including a-7.5% drop in 2020. Previously, it declined by 3%/year between 2005 and 2012 with the economic recession and increased slightly between 2012 and 2017 (+0.5%/year).
Interactive Chart Portugal Total Energy Consumption
Crude Oil Production
Portugal does not produce oil and imported 11.6 Mt of crude oil in 2020 (-11% compared to 2019). In 2020, the main crude oil suppliers were Brazil (37%), Nigeria (17%), Angola (10%), and Saudi Arabia (10%).
The country produced 11.6 Mt of petroleum products in 2020 (-11% compared to 2019). Portugal has a refining capacity of 220 kb/d corresponding to the Sines refinery in Porto. The Matosinhos refinery (110 kb/d, also in Porto) was shut in down in April 2020. Portugal is a net exporter of oil products (5.1 Mt exported vs 3 Mt imported in 2020).
Interactive Chart Portugal Crude Oil Production
Oil Products Consumption
Oil product consumption has remained roughly stable at around 9 Mt since 2013. It decreased rapidly between 2005 and 2012 (-6.9%/year).
The transport sector is the largest oil consumer (57% in 2020), followed by industry (22%, including non-energy uses), buildings and agriculture (10%), and the hydrocarbon industry (8%).
Graph: OIL CONSUMPTION (Mt)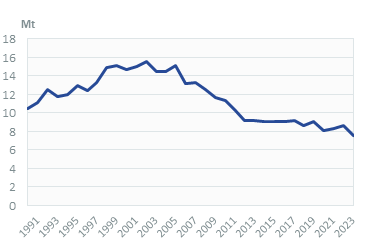 Graph: OIL CONSUMPTION BREAKDOWN BY SECTOR (2020, %)
Interactive Chart Portugal Refined Oil Products Production
Natural Gas Consumption
Gas consumption has increased rapidly since 2014 due to an increase in demand from power plants, partly because of lower hydropower availability. In 2018, it decreased by 7% and subsequently increased in 2019 to 6 bcm. It remained stable in 2020.
The share of gas used for power generation has been increasing since 2014 (62% in 2020). Industry accounts for 24% of total gas consumption and buildings for 11%.
Graph: NATURAL GAS CONSUMPTION (bcm)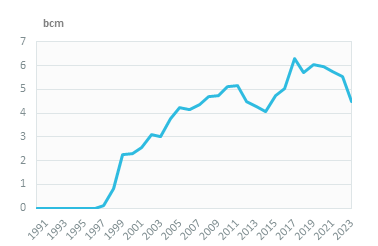 Interactive Chart Portugal Natural Gas Domestic Consumption
Coal Consumption
Almost the totality of the coal consumption is used for power generation; consumption levels depend on hydropower generation and price spreads with gas. Coal consumption has divided by 5 since 2017 to 1 Mt in 2020.
Graph: COAL CONSUMPTION (Mt)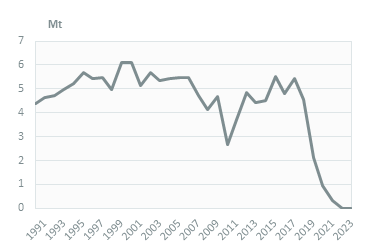 Graph: COAL CONSUMPTION BREAKDOWN BY SECTOR (2020, %)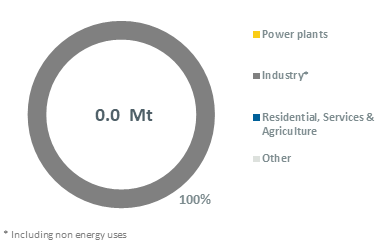 Interactive Chart Portugal Coal and Lignite Domestic Consumption
Power Consumption
Electricity consumption fell by 4.5% in 2020 to 46 TWh, after a 1.5% drop in 2019.
In 2020, industry and services remained the largest electricity consumers with a 34% and 33% share, respectively. Households held a 28% share in power consumption.
Graph: ELECTRICITY CONSUMPTION (TWh)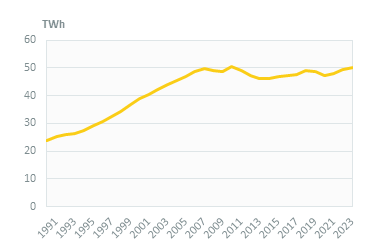 Graph: ELECTRICITY CONSUMPTION BREAKDOWN BY SECTOR (2020,%)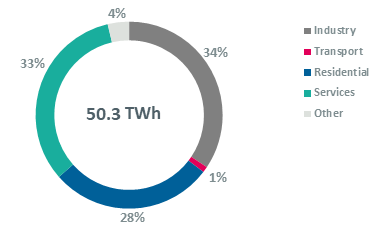 Renewable in % Electricity Production
ADENE is also the national agency responsible for renewables.
Portugal's NECP 2030 (2021-2030) sets a target of 47% of RES contribution in final energy consumption (from around 30% in 2020). In the short-term, Portugal's strategy is to launch two new auctions to add injection capacity totalling 2 GW of new renewable capacity. The latest tender was held in 2020 and awarded 700 MW of solar (with most capacity to be asosciated with BESS). The governement also plans to launch a call for 500 MW of new floating solar power capacity in 2021.
Interactive Chart Portugal Share of Renewables in Electricity Production (incl hydro)
CO2 Fuel Combustion/CO2 Emissions
GHG emissions grew by 12% between 2013 and 2017 and dropped by 4% in 2018 to 72 MtCO2eq; they decreased steadily by 3.4%/year from 2005 to 2013 (from 88 MtCO2eq).
The NECP aims to reduce emissions (without LULUCF) by 45-55% in 2030 compared to 2005 levels. Under the Roadmap for Carbon Neutrality 2050 (Roteiro para a Neutralidade Carbónica, RCN 2050), Portugal committed to carbon neutrality by 2050.
Shopping cart
Your shopping cart is empty.
Secured payment by