Niger Energy Information
Population: 23.3 million
GDP growth rate: 5.90 %/year
Energy independence: 100%

Data of the last year available: 2019
Total consumption/GDP:* 92.4 (2005=100)
CO2 Emissions: 0.11 tCO2/capita
Rate of T&D power losses: 14.0%

* at purchasing power parity
View all news, archive your new and create your own daily newsletters only on your topics/countries of interest with Key Energy Intelligence
Total Energy Consumption
The country's total energy consumption per capita reached 0.15 toe in 2019, including 62 kWh of electricity. It is the second lowest energy consumption per capita in West Africa, behind Guinea Bissau, and the tenth lowest in the world.
Since 2013, total consumption has increased by 3.3%/year. Previously, it rose by almost 20%/year between 2011 and 2013.
Interactive Chart Niger Total Energy Consumption
Crude Oil Production
Oil production started in 2011. Since 2013, oil production is between 0.7 Mt/year and 0.9 Mt/year.
CNPC processes its crude oil production at the 20 000 bbl/d Soraz refinery, commissioned in 2011, which supplies most of the domestic needs in refined oil product (88%) with a production of 0.8 Mt in 2019.
Interactive Chart Niger Crude Oil Production
Renewable in % Electricity Production
According to the country's National Renewable Energy Action Plan (2015), renewables (including hydro) should account for 51% the installed capacity by 2020 and 58% by 2030 (5% in 2019).
Moreover, 11% of Nigerian households should have access to improved cookstoves by 2020 and 20% by 2030. In addition, the penetration rate of butane is expected to reach 8% in 2020 and 11% in 2030. Finally, the share of biodiesel in gasoil and DDO should reach 1% in 2020 and 5% in 2030.
Interactive Chart Niger Share of Renewables in Electricity Production (incl hydro)
CO2 Fuel Combustion/CO2 Emissions
In 2015, Niger submitted its Nationally Determined Contribution (NDC) to UNFCCC. The target is to reduce its GHG emissions by 3.5% by 2030 compared to a BAU projection; with external support, the target could be raised to 34.6% in 2030 (conditional target).
Since 2006, CO2 emissions from energy combustion have increased by 10.3%/year on average to reach 2.4 MtCO2 (x 6 compared to 1990).
Graph: CO2-ENERGY EMISSIONS (MtCO2)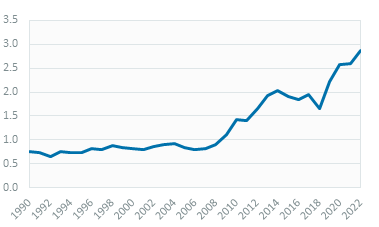 Shopping cart
Your shopping cart is empty.
Secured payment by