Luxembourg Energy Information
Population: 0.62 million
GDP growth rate: 2.30 %/year
Energy independence: 5.64%

Data of the last year available: 2019
Total consumption/GDP:* 62.1 (2005=100)
CO2 Emissions: 14.7 tCO2/capita
Rate of T&D power losses: 2.35%

* at purchasing power parity
View all news, archive your new and create your own daily newsletters only on your topics/countries of interest with Key Energy Intelligence
Luxembourg Related Research
Total Energy Consumption
The country's consumption per capita reached 6.4 toe in 2019, which is almost twice as high as the EU average; electricity accounts for about 10.2 MWh, which is around twice the EU average. Part of this high consumption is linked to steel production and to fuel tourism for motor fuels.
Total energy consumption has been increasing since 2016 (2.5%/year), bringing it to 4 Mtoe. It decreased by 1.6%/year from 2005 to 2016.
Graph: CONSUMPTION TRENDS BY ENERGY SOURCE (Mtoe)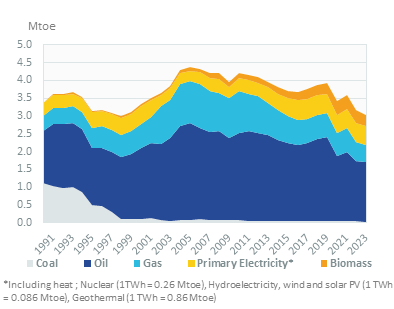 Interactive Chart Luxembourg Total Energy Consumption
Crude Oil Production
Oil products are mainly imported from Belgium and amounted to 2.9 Mt in 2019.
Interactive Chart Luxembourg Crude Oil Production
Renewable in % Electricity Production
Luxembourg aims to increase the share of renewables in final energy consumption from 11% in 2020 to 25% in 2030 (7% in 2019); the targets by sector are 30.5% for heating (8.7% in 2019), 33.6% for electricity (10.9%), and 25.6% for transport (7.7%).
To achieve its 2030 target, Luxembourg intends to use cooperation mechanisms already in place with the others EU countries to statistically buy a part of their renewable energy production.
Interactive Chart Luxembourg Share of Renewables in Electricity Production (incl hydro)
CO2 Fuel Combustion/CO2 Emissions
Luxembourg aims to reduce its GHG emissions by 55% in 2030 compared to 2005. In 2018, total net GHG emissions were 8% below their 1990 level at 12.2 MtCO2eq (+10% compared to 2016).
CO2 emissions from fuel combustion decreased by 20% between 2010 and 2016. They rebounded subsequently by 8% to 9 MtCO2 in 2019.
Graph: CO2-ENERGY EMISSIONS (MtCO2)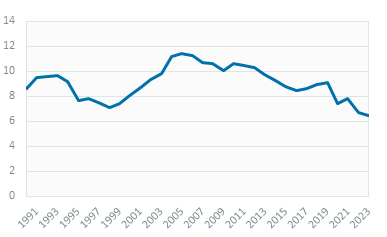 Shopping cart
Your shopping cart is empty.
Secured payment by