Bahrain Energy Information
Population: 1.55 million
GDP growth rate: 1.78 %/year
Energy independence: 100%

Data of the last year available: 2018
Total consumption/GDP:* 81.2 (2015=100)
CO2 Emissions: 21.2 tCO2/capita
Rate of T&D power losses: 4.60%

* at purchasing power parity
View all news, archive your new and create your own daily newsletters only on your topics/countries of interest with Key Energy Intelligence
Total Energy Consumption
Per capita energy consumption reached 9.3 toe in 2018, while electricity consumption per capita was 17 MWh.
Total energy consumption has increased slightly since 2014 (0.4%/year) to 14.3 Mtoe in 2018.
Graph: CONSUMPTION TRENDS BY ENERGY SOURCE (Mtoe)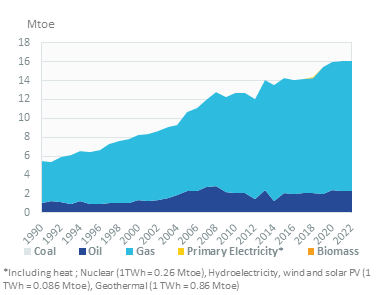 Gas supplies 86% of the total energy consumption and oil 14% (2018); those shares have remained relatively stable since 2000.
Interactive Chart Bahrain Total Energy Consumption
Crude Oil Production
Oil production has remained stable since 2013, with 205 kb/d in 2018; around 75% of the production comes from the Abu Safah field.
The country has a refining capacity of 267 000 bbl/d. Almost all the oil products are exported (around 90%), mainly to South Africa (15%), Japan (14%), South Korea (12%), and Singapore (10%).
Interactive Chart Bahrain Crude Oil Production
Renewable in % Electricity Production
In 2017, the Electricity and Water Affairs Minister launched the National Renewable Energy Action Plan (NREAP), which revises the previous renewable target to 5% of the public power capacity (i.e. excluding autoproducers) by 2025 and 10% by 2035. This corresponds to a renewables capacity of 255 MW in 2025 and 710 MW in 2035.
Interactive Chart Bahrain Share of Renewables in Electricity Production (incl hydro)
CO2 Fuel Combustion/CO2 Emissions
According to its NDC, the government of Bahrain has not set a GHG emissions reduction target, but it has launched strategies, plans and actions to contribute to lower GHG emissions.
After rapid growth over 2012-2014 (4.7%/year), the growth of CO2 emissions from energy use slowed down between 2015 and 2018 to 0.6%/year with the slowdown in power generation. In 2018, CO2 emissions from energy use reached 33 MtCO2, almost 3 times the level of 1990 (12 MtCO2 in 1990).
Graph: CO2-ENERGY EMISSIONS (MtCO2)
Shopping cart
Your shopping cart is empty.
Secured payment by