Austria Energy Information
Population: 8.88 million
GDP growth rate: 2.75 %/year
Energy independence: 35.9%

Data of the last year available: 2018
Total consumption/GDP:* 81.6 (2015=100)
CO2 Emissions: 7.38 tCO2/capita
Rate of T&D power losses: 4.70%

* at purchasing power parity
View all news, archive your new and create your own daily newsletters only on your topics/countries of interest with Key Energy Intelligence
Total Energy Consumption
Austria's energy consumption per capita is 3.7 toe, which is 16% higher than the EU average (2018). The country's electricity consumption stands at 7 400 kWh, i.e. 24% above the EU average.
Graph: CONSUMPTION TRENDS BY ENERGY SOURCE (Mtoe)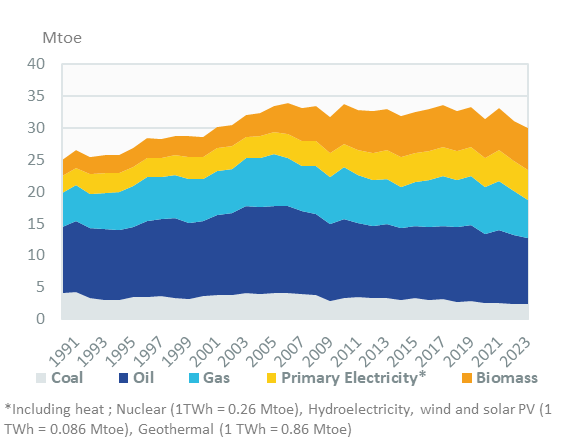 Total energy consumption has remained relatively stable at normal climate since 2010; most of the variations are explained by fluctuations in weather conditions.
Interactive Chart Austria Total Energy Consumption
Crude Oil Production
Since 2014, oil production has decreased by around 8%/year, reaching 0.7 Mt in 2018, which covers less than 10% of the country's needs. In 2018, Austria imported 8.4 Mt of crude oil, mainly from Kazakhstan (37%), Libya (23%), Iran (12%), and Azerbaijan (10%), almost all imported by pipeline from Trieste to the Schwechat refinery. Austria also imported 6.2 Mt of oil products in 2018, 58% of which from Germany.
Interactive Chart Austria Crude Oil Production
Oil Products Consumption
Oil consumption has been rising by 1%/year since 2014, reaching 11.5 Mt in 2018. It decreased by an average of 2%/year between 2005 and 2014.
Graph: OIL CONSUMPTION (Mt)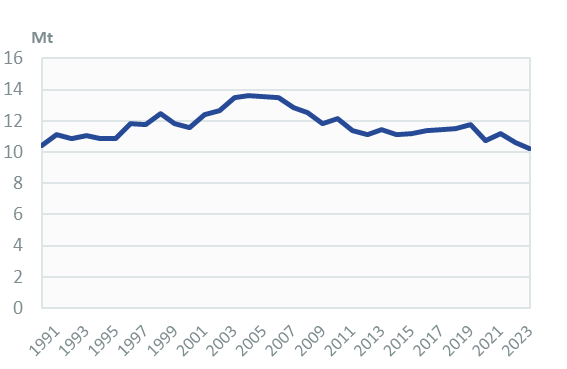 Transport absorbs 67% of the oil products, up from 51% in 2000, while the share of buildings (residential and services sector) contracted from 21% in 2000 to 11% in 2018. The share of industry is stable at around 17%.
Graph: OIL CONSUMPTION BREAKDOWN BY SECTOR (2018, %)
Interactive Chart Austria Refined Oil Products Production
Natural Gas Consumption
After a 4.5%/year decrease over 2010-2014, gas consumption rebounded by 5.2%/year between 2015 and 2017. In 2018, it dropped by 3.3% to 9.1 bcm.
Graph: NATURAL GAS CONSUMPTION (bcm)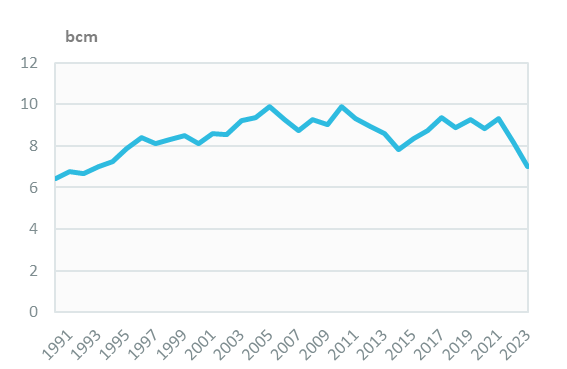 Industry consumed 41% of the natural gas in 2018 (36% in 2010), power plants 26% (29% in 2010), and the residential tertiary sector 23% (stable).
Graph: GAS CONSUMPTION BREAKDOWN BY SECTOR (2018, %)
Interactive Chart Austria Natural Gas Domestic Consumption
Coal Consumption
Coal consumption fell by 42% between 2003 and 2018 to 4 Mt.
Graph: COAL CONSUMPTION (Mt)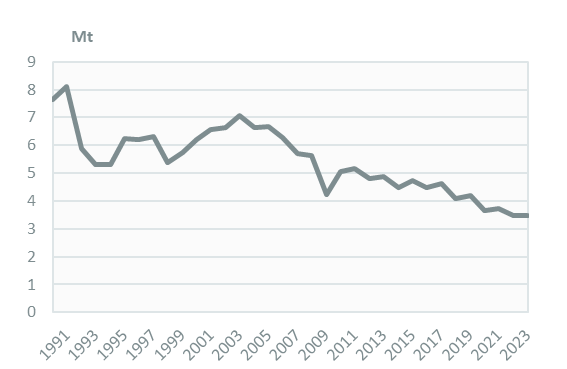 In 2018, power plants consumed 28% of the country's coal (42% in 2010), while industry accounted for 60% (39% in 2010).
Graph: COAL CONSUMPTION BREAKDOWN BY SECTOR (2018, %)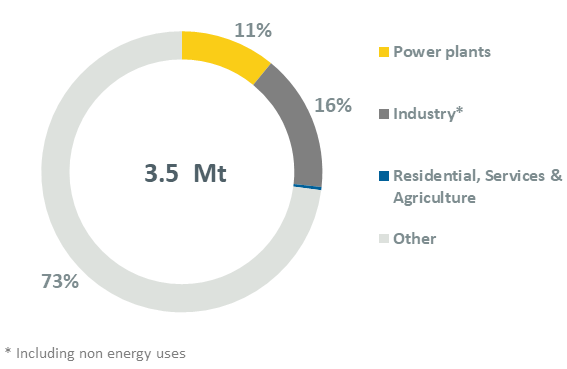 Interactive Chart Austria Coal and Lignite Domestic Consumption
Power Consumption
Since the 2009 recession, electricity consumption has been increasing regularly, by 1.3%/year on average, to reach 67 TWh.
Graph: ELECTRICITY CONSUMPTION (TWh)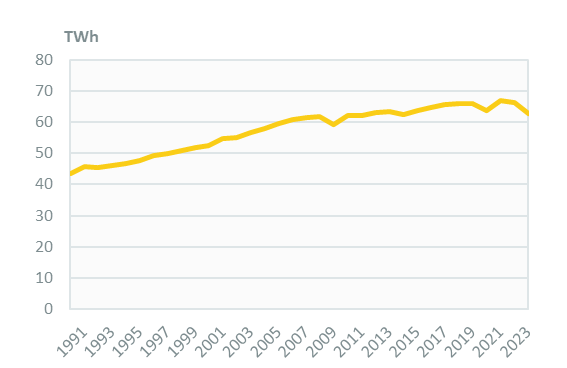 Industry accounts for around 44% of electricity consumption, with paper, machinery, chemical, and steel as main consumers. The shares of the residential and services sectors amount to 27% and 18%, respectively, and have been quite stable since 2000.
Graph: ELECTRICITY CONSUMPTION BREAKDOWN BY SECTOR (2018, %)
Renewable in % Electricity Production
The national target to increase the share of renewables in final consumption to 34% by 2020 has almost been achieved as the share was 33.4% in 2018 (according to EU definition), up from 24.4% in 2005.
According to the #mission2030 strategy, the objective is to cover 100% of total national electricity consumption from renewable energy sources by 2030 (up from 73% in 2018).
Interactive Chart Austria Share of Renewables in Electricity Production (incl hydro)
CO2 Fuel Combustion/CO2 Emissions
The new Austrian government aims at achieving carbon neutrality by 2040. In order to reach this target, the government will put a price on CO2 emissions and will seek to achieve 100% of renewable power generation by 2030. In addition, it will work on making air transport more expensive to make rail transport more attractive.
In 2018, the government revised its energy and climate strategy with the aim of achieving the EU CO2 emission goals by 2030, equivalent to a 36% reduction in CO2 emissions from 2005 levels.
Shopping cart
Your shopping cart is empty.
Secured payment by