Strong development of wind power capacities in The United Kingdom
Population: 62.6 million
GDP growth rate: 1.1%
Energy independence: 69%
Total consumption/GDP: 81.4 (2005=100)
CO2 Emissions: 7.1 tCO2/capita
Rate of T&D power losses: 7.2%
---
UK's target is to reach 7 000 wind turbines (3 000 of which offshore) by 2020 with an installed capacity of 34 GW. In January 2010, the Crown Estate awarded nine offshore wind energy zones. The aim of Round 3 is to install a total capacity of 32 GW in the UK.
Several major wind projects are scheduled for completion in 2012.
The Sheringham Shoal offshore project (northern Norfolk) is being built by Statkraft and Statoil (318 MW). The first energy from the wind turbines has been delivered to the grid in end-2011. The wind farm is scheduled to be fully operational in 2012. The Greater Gabbard project, which includes the installation of 140 turbines in the estuary of the Thames (coast of Suffolk), is being built by SSE and RWE Innogy (which in 2008 acquired 50% of the project). With a total capacity of 504 MW, the project is estimated at €1.5bn. It should be commissioned by end-2012. The Clyde offshore wind project is being developed by SSE Renewables. The 225 MW wind park has been energised and are able to export electricity. It should also be commissioned in 2012.
More about these projects in the UK energy report
DONG Energy and Siemens will share a 50% stake they acquired in the Lincs wind project (Lincolnshire). This offshore wind park is 50%-owned by Centrica, which has received final investment approval for the 270 MW project. The construction started in 2010, and commissioning is scheduled for 2012. E.ON (30%), DONG Energy (50%) and Masdar (20%) are building the London Array offshore wind park, with a capacity of 1 000 MW (€2.2bn). Phase I (630 MW) of the project should be commissioned in late 2012.
More about these projects in the UK energy report
---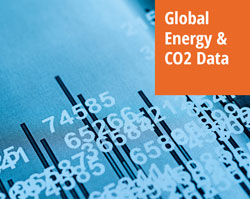 Then Global Energy Market Data & CO2 is your database! We provide world coverage of the oil, gas, coal, and power markets and a detailed overview of national supply & demand with annual data going back to 1970.
This energy database leverages more than 200 official data sources, which are processed by our analysts to provide fully harmonised data sets that are updated monthly.