Woodside will decide on Browse gas development in 2019 (Australia)
Australian independent gas producer Woodside plans to make a final investment decision (FID) on its Browse gas project in 2019. The company is now considering developing the offshore Browse gas field, located off Western Australia's Kimberley coast, by 2025, and may scrap plans to develop its own liquefaction project: gas may rather be delivered to the existing North West Shelf liquefaction plant.
The project has suffered many hurdles and delays. Woodside initially planned to develop a 12 Mt/year onshore LNG terminal but that project was cancelled in April 2013 due to cost escalations (up to US$94bn, the double of initial estimations). The project was later revived as a floating LNG (FLNG), consisting of up to three FLNG vessels with a capacity of 3.9-4 Mt/year each, and received approval from the Federal Department of Environment in August 2015. However, depressed commodity prices and costs pressures prompted Woodside to shelve the US$30bn project in March 2016. In April 2017, Woodside announced that the project would rather be developed as an onshore facility, that could start producing LNG in the mid-2020s.
---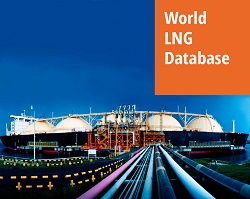 World LNG Database offers a complete set of data on LNG markets. The service provides detailed information on existing and planned liquefaction and regasification plants. It also includes LNG shipping around the world, LNG contracts, time series on regasification and liquefaction capacities, LNG flows and LNG prices for all players in the market.