Vineyard Wind postpones offshore wind project commissioning (US)
The Bureau of Ocean Energy Management (BOEM), part of the US Department of Interior, plans to issue a final decision on Vineyard Wind's 800 MW offshore wind project in Massachusetts by December 2020. Its previous target was in August 2019. Consequently, the wind park will be delayed and will not enter operation in 2022. No new commissioning date has been announced so far. Vineyard Wind is a 50-50 joint venture of Copenhagen Infrastructure Partners (CIP) and Avangrid Renewables (Iberdrola). In May 2018, Massachusetts state utilities Unitil, National Grid and Eversource Energy selected an 800 MW offshore project proposed by Vineyard Wind in the first offshore wind round of the state. The first 400 MW was expected to be operational by the end of 2021 and the remainder by 2022.
The 804 MW Mayflower offshore wind project won a tender in October 2019 as part of the Massachusetts offshore wind solicitation, offering electricity below the original price cap of US$84.23/MWh (winning bid price not specified). Mayflower Wind Energy has just signed an agreement with the Massachusetts Electric Distribution Companies and submitted documents for approval to the Massachusetts Department of Public Utilities. The project, which is expected to be commissioned in 2025, will deliver electricity at a price of US$58.47/MWh. In comparison, the Vineyard Wind's 800 MW project will produce electricity at a price of US$67.59/MWh.
.
---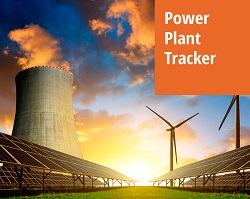 Enerdata has developed a market research service to screen, monitor and analyse the development of power generation assets.
Power Plant Tracker offers an interactive database and a powerful search engine covering power plants worldwide – including both installed and planned capacities for renewables and fossil fuels.