Vietnam approves the creation of an emission trading scheme
The Vietnamese National Assembly has passed a new law on environmental protection, which creates an emission trading scheme (ETS) on 1 January 2022. The new regulation stipulates that the ETS must suit the local context and comply with international climate change treaties. The government will specify targets, timelines and regulated industries in a decree at a later stage. In addition, the law authorises enabling measures like national greenhouse gas (GHG) emission inventories, and the monitoring, reporting and verification of emissions.
In August 2020, the country updated its Nationally Determined Contribution (NDC), planning to reduce to its GHG emissions by 9% by 2030 compared to the business-as-usual (BAU) scenario, equivalent to 83.9 Mt of CO2eq, using its domestic resources. The new target is 1 percentage point higher than the previous objective set in 2015. The GHG emission cut target could be further increased from 25% to 27%, or 250.8 MtCO2eq, with international support through bilateral, multilateral cooperation and implementation of mechanisms under the Paris Agreement.
---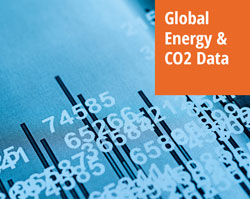 Then Global Energy Market Data & CO2 is your database! We provide world coverage of the oil, gas, coal, and power markets and a detailed overview of national supply & demand with annual data going back to 1970.
This energy database leverages more than 200 official data sources, which are processed by our analysts to provide fully harmonised data sets that are updated monthly.