Vattenfall reports increased power and gas sales in 2018 (Sweden)
Swedish state-run power company Vattenfall has issued its 2018 results, reporting a 16% increase in net sales to SEK156.8bn (€14.9bn), thanks to currency effects, higher power prices and nuclear power production, and eventually higher sales of electricity and gas. Sales of electricity and gas increased on most markets - electricity sales rose by 8.6% to 119 TWh, while gas sales increased by 1.4% to 57 TWh and heat sales dipped by 2.6% to 18 TWh - and the customer base increased by 1.9% to 8.9 billion contracts.
Electricity production reached 130.3 TWh (+2.4%) in 2018. Nuclear operations achieved a record of 55 TWh (+6%). Hydropower and wind installations generated 35.5 TWh and 7.8 TWh, a level similar to 2017. Thermal power generation remained stable at 31.6 TWh (-0.6%).
Wind energy made significant progress throughout the year thanks to higher electricity prices. Installed wind capacity reached 2,842 MW (+2.6%), of which 1,699 MW offshore and 1,143 MW onshore. Most of the capacity is located in the United Kingdom (1,082 MW), Germany (655 MW), Denmark (401 MW), Sweden (355 MW) the Netherlands (349 MW). In 2018, the company invested SEK8.2bn (€780m) to support the development of wind parks and other renewable generation activities, which is 46% more than in 2017. Approximately SEK24bn (€2.29bn) will be invested in 2019 and 2020 to support the future wind capacity additions, which corresponds to 75% of the company's total funds for growth investments.
In 2018, Vattenfall distributed 86 TWh (+0.7%) to 3.3 million customers. Investments in the Swedish and German distribution segments rose by 21% and 15%, respectively. Distribution revenues increased to SEK22.4bn (€2.1bn, +4.4%) mainly due to higher local network tariffs and increased revenues for the Swedish regional network.
---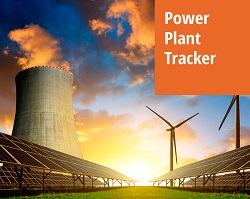 Enerdata has developed a market research service to screen, monitor and analyse the development of power generation assets.
Power Plant Tracker offers an interactive database and a powerful search engine covering power plants worldwide – including both installed and planned capacities for renewables and fossil fuels.