US power sector CO2 emissions predicted to remain flat until 2050
According to the United States Energy Information Administration (EIA), US power sector emissions of carbon dioxide (CO2), sulfur dioxide (SO2) and nitrogen oxides (NOx) are predicted to remain flat until 2050 assuming no legislation changes. The governmental body reports that emissions from the domestic power sector have declined over the past decades either directly or indirectly due to the phased implementation of several regulations passed under the Clean Air Act Amendments of 1990.
The EIA forecasts that CO2 emissions from the power sector will remain relatively stable by 2050 and that they will average their 1984 level in spite of the 23% projected rise in power generation over the same period. Indeed, most of the new capacity addition will come from natural gas and renewables, which emit less or no CO2 while in operation. Besides, about 37% of the coal-fired capacity in place in 2018 is slated to retire by 2050, as coal-fired generation is less and less competitive compared with relatively low cost and more efficient CCGT generation or compared with renewable energies that have also seen cost reductions in recent years.
---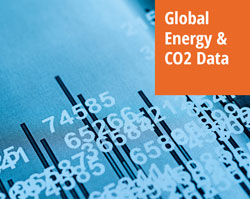 Then Global Energy Market Data & CO2 is your database! We provide world coverage of the oil, gas, coal, and power markets and a detailed overview of national supply & demand with annual data going back to 1970.
This energy database leverages more than 200 official data sources, which are processed by our analysts to provide fully harmonized data sets that are updated monthly.