The US plans to add 27 GW of new gas-fired power capacity by 2025
According to the US Energy Information Administration (EIA), over 27 GW of new gas-fired power capacity should be added by 2025 in the United States, raising the installed gas-fired capacity by 6%. Most of the new capacities will be built near the major shale gas production zones, in the Appalachia region (Utica and Marcellus shale plays), in Texas (Permian Basin, Eagle Ford and Haynesville) and in Florida. Indeed, 43% of the planned capacity will be built in States with pipeline access to gas from the Marcellus and Utica shale play: 3.8 GW in Illinois, 3.2 GW in Michigan, 2.9 GW in Ohio and 1.9 GW in Pennsylvania. Moreover, 2.8 GW of new gas-fired capacity should be added in Texas, the largest gas producer in the country. In addition, Florida, which has a marginal gas production but a growing regional gas pipeline network, plans to add 3.2 GW of new gas-fired capacity by 2025.
---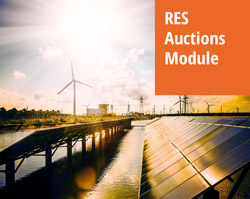 Discover our very detailed and regularly updated RES auctions database with worldwide coverage and a technical focus backed by academic research.
With our renewable energies auctions service you will be able to monitor auctions at a global level. Its (expanding) scope notably includes all major G20 countries and offers an especially fine tracking on Europe and South America.