US largest coal producer Peabody unveils business plan
Peabody Energy, the largest coal producer in the United States (around 20% of domestic production), has presented its five-year business plan, which has been approved by its debtor-in-possession lenders. The group filed for bankruptcy protection (petition under Chapter 11) for the majority of its US entities in April 2016.
Peabody Energy expects US coal demand for electricity generation to rise 20-25 Mt between 2016 and 2021, with announced plant retirements offset by increased capacity utilization at remaining plants. Overseas demand should be driven by China and India, with Asia-Pacific metallurgical coal demand expected to increase by 50-55 Mt between 2016 and 2021. Thermal coal demand should also rise by 50-60 Mt, thanks to the commissioning of 375 GW of new coal-fired capacity, especially in the Asia-Pacific region. Peabody aims to raise its total sales volumes from 168 Mt in 2016 to a range of 194 to 197 Mt/year between 2018 and 2021. Revenues are anticipated to be largely stable between US$4.4bn and US$4.6bn.
At the end of 2015, the company had a total debt of US$6.3bn. Peabody owns stakes in 26 mines in the United States and Australia, with about 3/4 of its production sold to the US power sector, that is increasingly shifting toward gas-fired generation. This trend will aggravate difficulties for coal mining companies, as stricter environmental regulations will be introduced as of 2022. The group is also facing falling coal prices (from around US$200/tonne in 2000, when coal covered half of the US power mix, to the current US$40/tonne, with coal accounting for a third of the power mix).
---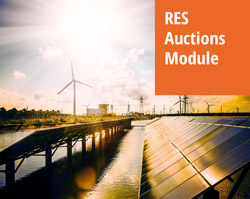 Discover our very detailed and regularly updated RES auctions database with worldwide coverage and a technical focus backed by academic research.
With our renewable energies auctions service you will be able to monitor auctions at a global level. Its (expanding) scope notably includes all major G20 countries and offers an especially fine tracking on Europe and South America.